Hoarwithy circular walk
Distance 4.5 miles / 7.2 km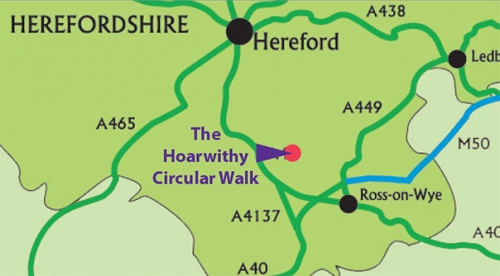 Walk information
Stiles: 7
Gates: 4
Steps: 0
Narrow bridges: 1
Slopes: 4 steep slopes between point 1 and 3 and 5 and 7 on the map
The Hoarwithy circular route map shows these features and the terrain.
Download the Hoarwithy circular route leaflet.
Parking
There is limited parking in Hoarwithy village.
Refreshments
Refreshments can be obtained from The New Harp Public House in Hoarwithy. Please check opening times and booking requirements before setting out.
About Hoarwithy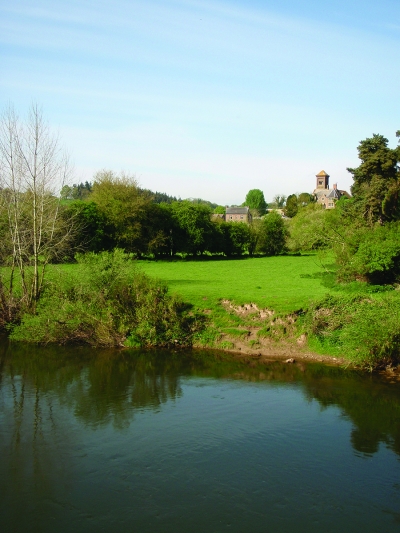 The pretty hamlet of Hoarwithy, first recorded in the late 13th or early 14th century as 'La Horewythy', the name is thought to derive from a local tree name.
'The Stones of Venice on the banks of the Wye' is how an earlier writer described St. Catherine's Church in Hoarwithy. This famous 'italianate' church was originally built in 1840 by Reverend Thomas Hutchinson, but when Prebendary William Poole, Vicar of Hentland came to Hoarwithy in 1870 he decided the brick building was so ugly that he had to beautify it using sandstone in this Romanesque style. The exotic looking church has since been used in many films and is an unusual, eye catching landmark.
A Victorian suspension bridge allows you to cross the river to the pretty church at Sellack. It is said that one vicar in earlier times used stilts to ford the Wye here in order to avoid a lengthy detour! The bridge also replaced a ferry that once existed here.
The name of nearby Sellack is thought to be derived from 'Sulac'. The Church at Sellack is dedicated to St. Tysilio (or St. Tesiliog) and Tysilio and Sulac are both pet forms of the Welsh personal name Suliau.
Caradoc Court near Sellack was built in the late 16th/early 17th centuries by Rowland Scudamore. The unusual name 'Caradoc' seems to derive from a form like 'Caer Caradoc' meaning some sort of British defended site and may originally have applied to the iron age hill-fort of Gaer Cop which is 3 kilometres south-west, in Hentland parish.
In 1864 Caradoc Court was extended in the Jacobean style and new landscape features were created including a balustraded terrace at the front with steps down to lawns, an italianate garden and plantings of evergreens.
This all survived until March 1986, but tragically a fire destroyed the house and rescue work ruined the italianate garden. Since then the house has been meticulously restored to its former splendour.
Route map for Hoarwithy circular walk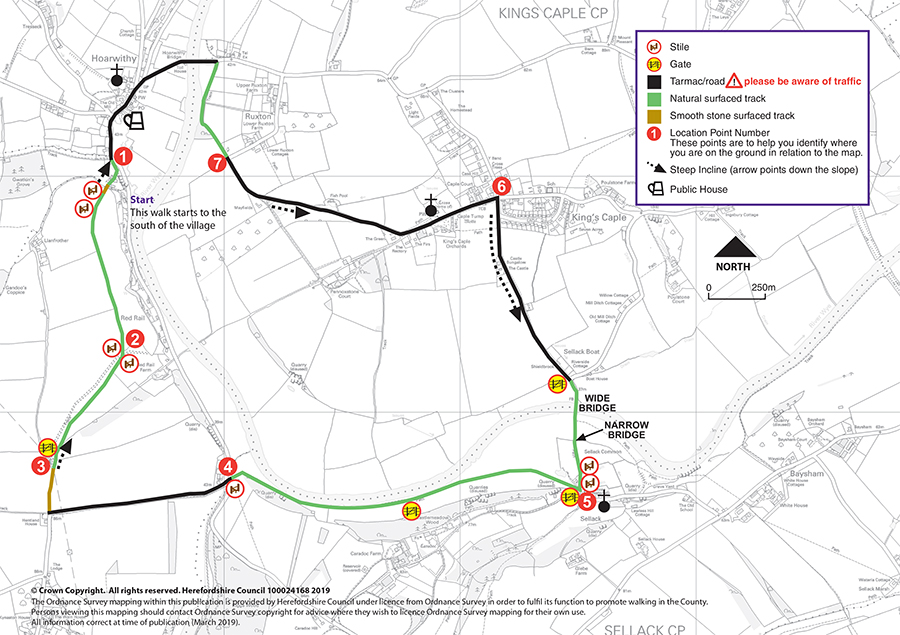 This route is managed by Balfour Beatty Living Places on behalf of Herefordshire Council.