John Kyrle circular walk
Distance 3 miles / 4.8 km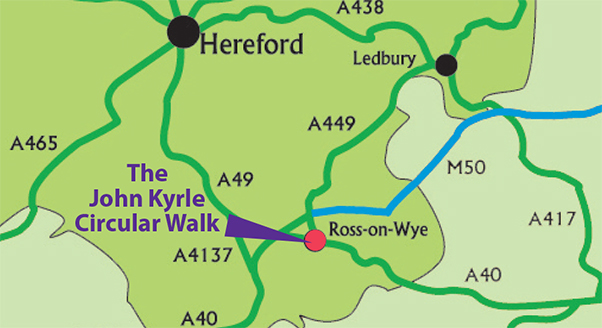 Walk information
Stiles: 0
Gates: 7 kissing gates
Steps: 7 flights
Narrow bridges: 0
Slopes: Some steep slopes between 5 and 6
These features and the terrain are shown on the John Kyrle circular route map.
Download John Kyrle circular walk leaflet.
Parking
Parking is available at Wilton Road car park (a charge and height restriction applies.)
Refreshments
Refreshments can be obtained from various shops and Inns in Ross-on-Wye. Please check opening times and booking requirements before setting out.
About John Kyrle
John Kyrle, known as 'The Man of Ross', was a 17th century philanthropist and this walk around Ross-on-Wye is believed to be a favourite of his.
Born at Dymock, John Kyrle was the son of Walter and Alice Kyrle. He studied Law at Oxford, but did not qualify as a lawyer. After his father's death in the 1650s he inherited the timber-framed house in Ross, opposite the Market House. Here he lived modestly as a bachelor on an income, it is said, of £500 per year.
If you look up at the side of the Market House opposite John Kyrle's house you will notice the curious logogram on the wall representing 'Faithful to Charles in heart'. This is traditionally associated with Kyrle showing his loyalty to the crown.
Apart from Kyrle's charitable works and deeds he also settled disputes, supported the schools, tended the sick and helped the poor. His public-mindedness also extended to beautifying the town and its surrounding landscape.
The Prospect was acquired by Kyrle in a lease of 1696. Here he laid out gardens with a fountain and a water supply. The gates of 1700 bear his monogram and crest.
A water engine was installed by the riverside in 1705-1706 by Kyrle and his partners. It pumped river water up to the Prospect for the fountain and reservoir.
St. Mary's church spire and three pinnacles were repaired in 1721, and, although Kyrle's name is not mentioned in the records, he convened the parish meeting and in 1695 gave the tenor bell. His monument and tomb can be seen in the chancel.
At the great age of 87, John Kyrle died and was buried in the chancel of St. Mary's Church in Ross. His life and good works were celebrated by the poet Alexander Pope in his Moral Essays written in 1732. Since then many places in the town have taken his name.
Credit: With thanks to Heather and Jon Hurley, Ross-on-Wye & District Civic Society
Route map for John Kyrle circular walk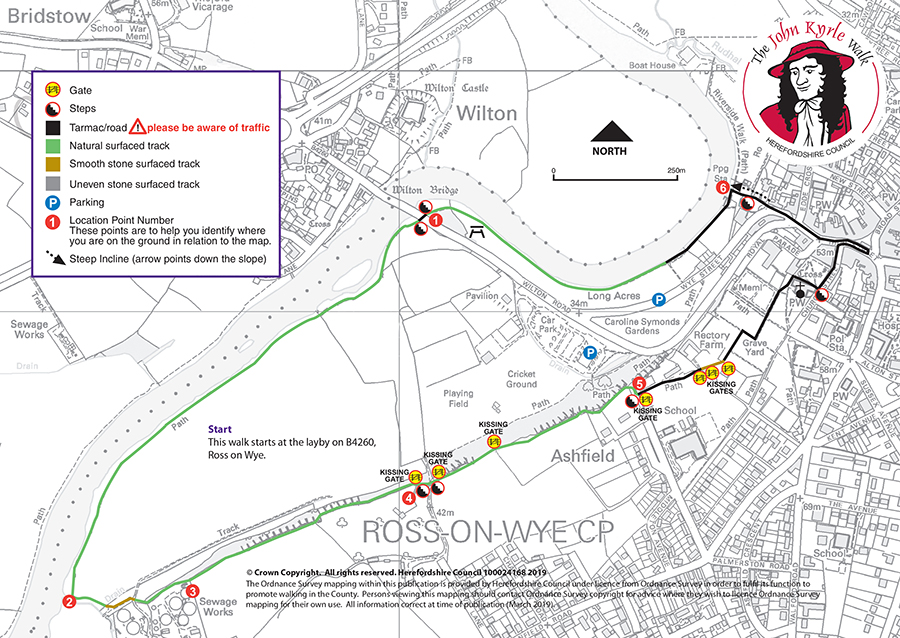 This route is managed by Balfour Beatty Living Places on behalf of Herefordshire Council.