Bodenham circular walk
Distance 2.5 miles / 4 km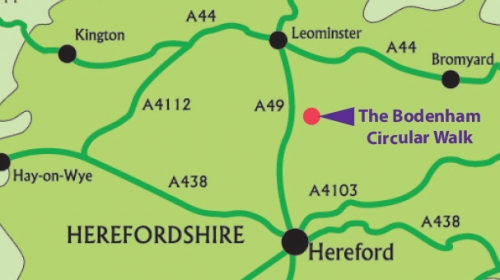 Walk information
Stiles: 9
Gates: 4 (1 kissing gate)
Steps: 1 large flight between 2 and 4 on the map
Narrow Bridges: 2, 1 between 2 and 3 on the map and 1 between 2 and 4
Slopes: 1 steep between points 2 and 4 on the map, 1 between 2 and 3
The Bodenham circular route map shows these features and the terrain.
Download the Bodenham circular route leaflet.
Parking
Parking is available at Bodenham Lake Nature Reserve and in the centre of the village at the start of the walk.
Refreshments
There are a number of local inns, shops and garages in and around Bodenham. Please check opening times and booking requirements before setting out.
About Bodenham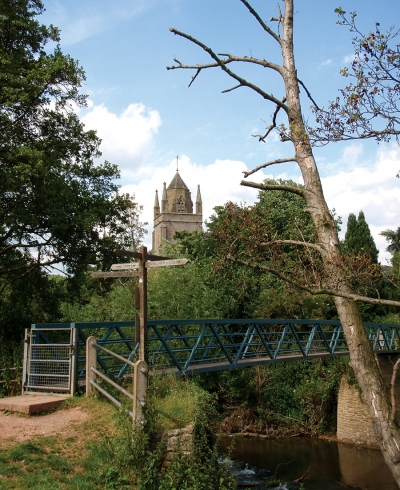 St. Michael's Church has sections dating back to the 13th Century. The majority of the existing church dates from the 15th and 16th centuries or its restoration in 1889. Looking at the tower it is interesting to try and see where the money ran out during its original construction and then again during the 1889 renovation!
The area around the church is called Pea Green. In 1809 the Arkwright family, wealthy textile merchants, bought nearby Hampton Court Estate which included all bar two cottages in Bodenham. The Estate cottages that make up Pea Green were home to craftsmen working on the estate for the Arkwrights.
Looking across the river you can see Bodenham Lake, formerly farmland, then used for gravel extraction and now a Herefordshire Council owned Nature Reserve. The site is partly open to the public and can be accessed along a path from the Church. The lake is home to 100+ species of bird during the year. A bird hide is open to the public on the north bank. The neighbouring orchard is being restored using locally distinctive fruit varieties.
To the south of The Vern is the possible site of a Roman fort. This sits on a slight plateau area within the valley below Dinmore Hill Iron Age fort. It was probably constructed to control movement through the valley and possibly also to keep an eye on the hill fort.
At Little Berrington there are a series of interconnected ponds created to attract wild fowl to the area and create a permanent wetland habitat. They are fed by an ancient spring that is also utilised by the nearby Berrington Pure Water Company.
Devereux Court is the large black and white timber framed building in Bodenham village. This was the original 15th century Manor House of Bodenham and home to the Devereux family.
Route map for Bodenham circular walk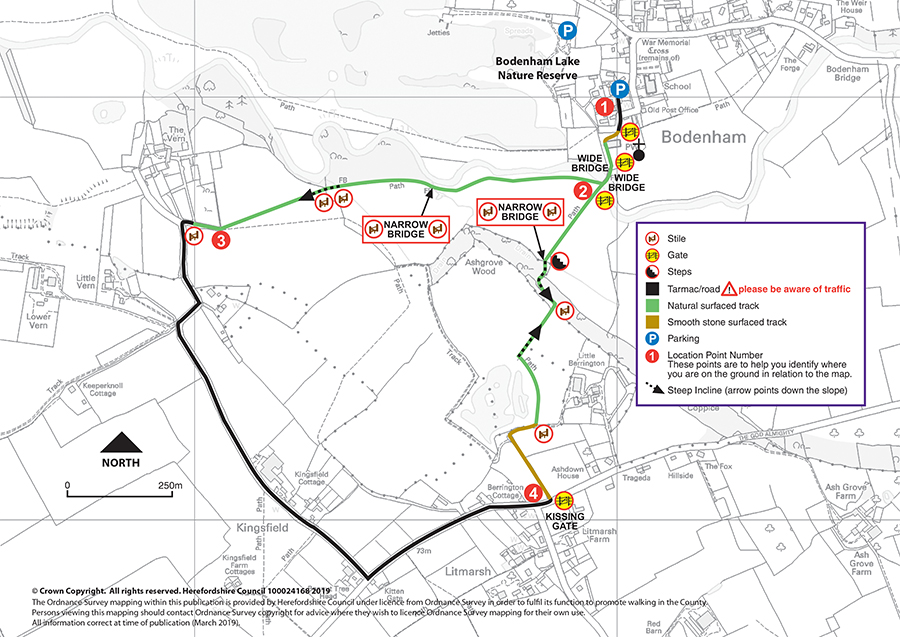 This route is managed by Balfour Beatty Living Places on behalf of Herefordshire Council.