Lingen circular walk
Distance 5.5 miles / 8.9 km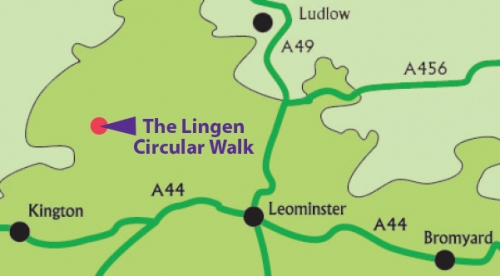 Walk information
Stiles: 4
Gates: 14
Steps: 0
Narrow bridges: 5
Slopes: Many steep slopes, undulating slopes between points 2 to 3, and 6 to 7 on the map
These features and the terrain are shown on the Lingen circular route map.
Download the Lingen circular walk leaflet
Parking
There is parking by St Michael's Church and at Lyepole Bridge.
Refreshments
Refreshments are available from The Royal George Inn at Lingen. Please check opening times and booking requirements before setting out.
About Lingen
In Lingen stands the attractive St. Michaels Church set in an expansive churchyard with surrounding mature trees. The stone parts of the tower and the benches date from the 16th century but the majority of the church dates from a major renovation in 1891.
Behind the church to the north you can see the earthworks of a large rectangular bailey platform beside a moated mound some 6.5m high testifying to earlier occupation in the area. This was probably the home of the local Lords of the manor, the Lingen family.
Other earthworks in this area include two iron-age farmsteads both defended by a bank and ditch. One is at The Camp near Upper Lye and the other is on top of the spur overlooking Lingen. The whole of this area of the County is dotted with indications of extensive Iron Age occupation, from farmsteads to large camps and major hillforts.
As you walk through Lingen village look out for the excellent examples of timber framed buildings. Although often called "Black and White" some buildings were painted other colours or the timber was just left to weather naturally.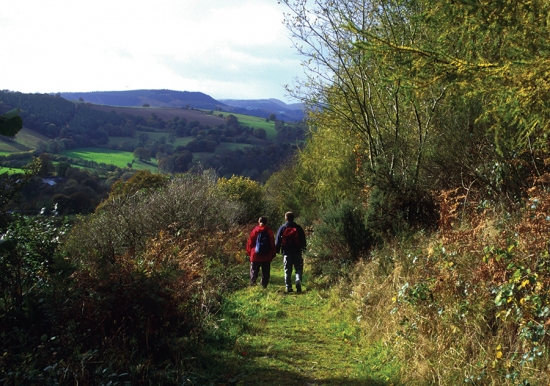 Limebrook Priory is a 13th century nunnery that was founded either by Robert de Lingen or one of the Mortimer family. By its dissolution in 1539 the nunnery was tenanted by six Augustinian nuns and their attendant community. It is a scheduled ancient monument but all that can be seen today is a single ruined building lying east-west with three single light windows and the remains of doorway.
The woodlands alongside the Limebrook are partly ancient with examples of some very old oak coppice and mature yew trees. The fields in places are untouched by modern agriculture and so provide an ideal habitat for a diverse flora including the nationally rare Adders Tongue along with wild daffodils and orchids.
Route map for Lingen circular walk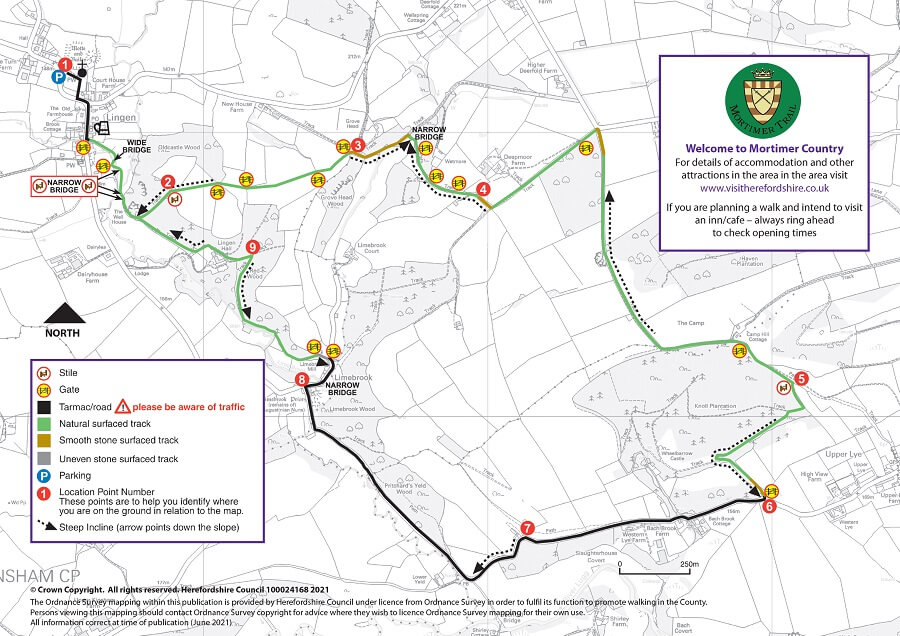 This route is managed by Balfour Beatty Living Places on behalf of Herefordshire Council.