Led rides for women
Shirley and the Bicycle Ambassadors
Our Community Bicycle Ambassador team know exactly how it feels when you are thinking about getting back to riding your bicycle, if you haven't ridden for a while, or maybe as a totally new rider. The team has everything you need to help make it easy for new, returning and reluctant riders, whatever your age or ability.
Shirley's short rides are free easy short rides - led by the Community Bicycle Ambassador team - for women, on traffic-free and quiet roads around Hereford. We ride as fast as the slowest rider with ride times lasting around 30 minutes. Come along and gain confidence on your bike and make new friends in the process!
Rides in 2018
Friday Freewheelers
Join us at The Pharmacy, Gorsty Lane, for easy rides and good company. Meet 11.30am or at the Victoria footbridge at approximately 11.45am.
Saturday Socials
On the first and second Saturday of each month join us at The Cider Museum - by Sainsbury's, Whitecross for easy rides. Meet at 11.30am, finished by 1pm
Move it! Mondays
On the first Monday of every month join us at Saxon Hall, Hoarwithy Road for easy rides. Meet at 11.30am.
Contact details
To book your spot on a ride please email move@herefordshire.org.uk with the subject line "led ride" so we have an idea about how many people will be turning up to a ride.
If you want to join a ride but don't feel confident to get to the start point, the Community Bicycle Ambassadors can pick you up before the ride. Just email them a week before the ride with some details to move@herefordshire.org.uk with the subject line "Pick Up".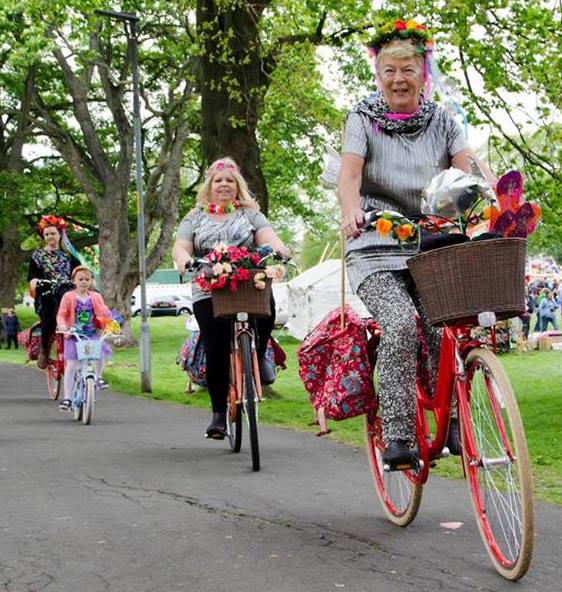 Community Bicycle Ambassadors
Community Bicycle Ambassadors work in, with and for communities to help people who want to ride to get into the saddle. So if your community group, for example PTA, Guides, WI group, wants to discover more about how they do it, just get in touch, email move@herefordshire.gov.uk and please make sure to put Bicycle Ambassadors in the subject line so that you get a prompt response.
The Bicycle Ambassadors Privacy notice
No bicycle? No problem
We have a variety of different sized and shaped bikes you can borrow for free. Just visit www.bicycleambassadors.org.uk and fill out the 'borrow a bike' form.
Free cycle lessons
If you're not quite ready to join a led ride but want to start riding a bike then join one of our free cycle lessons;
One-to-One lessons with fully qualified trainers
Learn on your local routes and quiet roads
Pick up from your door
All ability levels welcome, from complete beginners to experienced riders
For more information and to book, email move@herefordshire.gov.uk with the subject line 'FREE cycle lessons'.
Further information
Facebook: search 'ShirleysWheels' to get all the last information on rides and extra events.
If you would like to join our growing community of Local Bicycle Ambassadors please visit www.bicycleambassadors.org.uk and apply today.