Rail and cycle
Most trains in the county will carry at least two standard bikes, however we advise you to make a cycle reservation if you would like to travel on with your bike.
Space designated for cycles on two and four carriage trains is denoted by cycle logos near the train doors.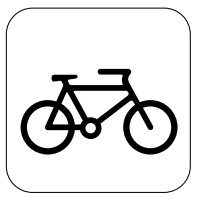 On Arriva trains it tends to be coach C.
On First Great Western London trains they are usually put in the guard's van at the back.
Check the National Rail journey planner for trains which have cycle policies.
There are no restrictions for folding bikes provided you fold them.
There is covered cycle parking available at Hereford, Ledbury and Leominster train stations.
Unfortunately, there is no cycle parking available at Colwall train station.