Under-fives

Children are welcome to join the library from birth and enjoy the great choice of board and picture books in our libraries. There are plenty of spaces to explore, free activities to enjoy and stories to share. Regularly sharing books, stories and rhymes can have a big impact on their development and helps to build a baby's early language skills whilst encouraging a lifelong love of reading.
10 things you will find for under-fives in our children's libraries
Board books: sturdy books for little hands!
Picture books: beautifully illustrated stories to share including fairy tales and bedtime stories
Books for learning new nursery rhymes and songs
Early learning: books about colours, shapes, animals, to help your child understand the world around them
New experiences: books to help your child face new situations such as going to the doctor, starting playgroup or the arrival of a new baby
Sensory, tactile and interactive books including braille to engage all children
Stories in other languages: picture books for families whose first language is not English
Free eBooks and eAudiobooks using BorrowBox
Free events and activities
Family-friendly library spaces to share stories
We also have books to help you as a parent on useful topics such as child development, weaning, feeding, potty training and coping with toddlers.
My First Library Card
My First Library Card is designed especially for our younger readers by local illustrator Iain Welch. It's available from libraries and participating preschools.
Find out more about My First Library Card.
The Squirrel Club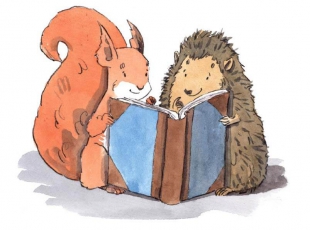 When your child joins the library they can take part in the Squirrel Club.
Collect a sticker for every visit you make to the library. When you have all four stickers your child will receive a special reward. Hurray!
Keep a look out for free Squirrel Club activities and events happening in a library near you.
Bookstart
A parent is a child's first teacher and can shape the way they learn by sharing books and rhymes. Sharing books with babies and toddlers strengthens bonds, increases language skills and helps them to understand the world around them. Research also shows that babies and toddlers who love books begin reading sooner and go on to fare better at school, in all areas of the curriculum.
Bookstart is a national book gifting programme. It encourages parents to share books with their children from an early age and helps promote the benefits of libraries to families.
In Herefordshire your child will receive their first Bookstart baby pack from a health visitor. At three-four years old they will receive the second, Treasure Book Pack, from their nursery or other early years setting. If you prefer you can request either pack from your local library.
Visit the Bookstart website to find out more about Bookstart and take part in lots of fun activities.
If you are a preschool manager or supervisor or childminder, see our library preschool resources page for information about ordering Bookstart packs.
Sensory book collection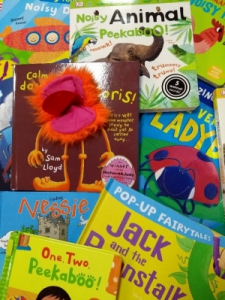 Among our preschool titles we have an inclusive sensory board book collection for children.
By feeling different textures and finding surprises under flaps or behind doors, reading becomes a multi-sensory experience.
Included in the collection are Braille-adapted books developed in partnership with the Royal National College for the Blind (RNC). A Braille-imprinted acetate is inserted over book pages so books can be enjoyed by the whole family.
If you can't get to Hereford or Leominster Library, you can reserve books from this special collection online or from your nearest library. As with all our library service children's books, no fines or charges will be incurred on late, lost or damaged books.