eBooks and eAudiobooks
New eBook and eAudio service coming soon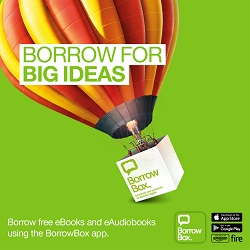 On 1 May 2019 we are launching a new eBook and eAudio service with Bolinda BorrowBox for Herefordshire Library members.
Our new service will contain a greater selection of eBook and eAudio titles through the BorrowBox app. Keep an eye on the Herefordshire Libraries Facebook and Herefordshire Libraries Twitter accounts for the latest news on this exciting new collection.
From 28 March 2019 all eBook titles were removed from the RB Digital app and library - this won't affect the eAudio titles, which remain available.
About the current eAudiobook service
You can borrow a range of eAudiobooks free of charge.
Browse our RB Digital eAudiobook catalogue
How it works
Borrow up to 12 eAudiobooks for up to 21 days
If the eAudiobook you want is already checked out, reserve it free of charge and receive an alert when it is available for you to download
After 21 days the eAudiobook will be automatically deleted from your device
You can return items early
No overdue charges to worry about
How to register for an RBdigital account
You will need your Herefordshire library card number. If you're not yet a library member, you can join online
Enter your library card number and follow the instructions to set up your RBdigital username and password
Apps for mobile, tablet, PC and Mac
The RBdigital app is available to download for a wide range of devices. Download the app below and login with your RBdigital username and password.
You may also need an Adobe Editions account depending on your device.
Further help
Visit the help pages for guidance on downloading and using the RBdigital apps
If you are unable to find an answer to your question, email RBdigital's support team rbdigital@wfhowes.co.uk
The RBdigital team is based in the UK and will be in touch as soon as possible. (They aim to reply to all queries within two working days.)
eBook reader compatibility
eBooks may be downloaded onto e-Reader devices running Adobe Digital Editions.
Our eBooks are not currently compatible with the original Amazon Kindle. This is because Amazon does not support eBook lending in any UK public library service.
However, our eBooks are compatible with the Amazon Kindle Fire (HD) through the android app available in the Amazon App store.