Squirrel Club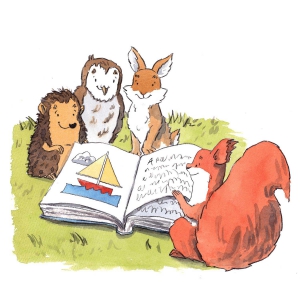 Have fun with reading
The Squirrel Club encourages under-fives to share stories and rhymes and enjoy time at the library.
Pick up a free collector card from your local library and join Squirrel on his reading journey. Collect a sticker every time you visit or borrow a book. Designed by local illustrator Iain Welch, our special woodland stickers create a magical picture of Squirrel and his woodland friends.
Reading at home is one of the most important ways you can help your child. Reading together helps children learn the skills they need to decode words and gain confidence with practice. Children who have the opportunity to read with those close to them can develop a love of reading that can last a lifetime.
Collect all four stickers to complete your card and get a storybook to keep, personalised with a Squirrel Club bookplate featuring your child's name.