Living in Herefordshire
We are proud of our county and we want to share it. Find out what Herefordshire can offer you.
Herefordshire is in the southern West Midlands, between Worcestershire and the breath-taking Brecon Beacons in Wales. Famous for its mouth-watering Hereford beef and thirst quenching craft ciders, there is much more to Herefordshire than its remote location, beautiful countryside and ancient woodlands.
The vibrant city of Hereford sits on the banks of the River Wye and is home to a magnificent 8th century cathedral. It offers a variety of lifestyles, blending traditional country living with a modern thriving city. Residents and visitors can enjoy shopping in High Town and the Old Market, with stunning architecture and local history only a short stroll away. The city is constantly evolving and offers residents high quality living with lots of things to do during the day and at night. If you've dreamt of a place which brings together the convenience of living in the big city with the lifestyle associated with a home in a rural idyll, Hereford is the place for you.
Things to do
With two Areas of Outstanding Natural Beauty, Herefordshire is surrounded by beautiful landscapes. The Wye Valley and the Malvern Hills are best known for their spectacular views with miles of countryside to explore on foot and bike. If you are looking for an unforgettable day out then we can highly recommend a canoe trip on the beautiful River Wye, the fifth-longest river in the UK, spotting all the different types of wildlife as you paddle.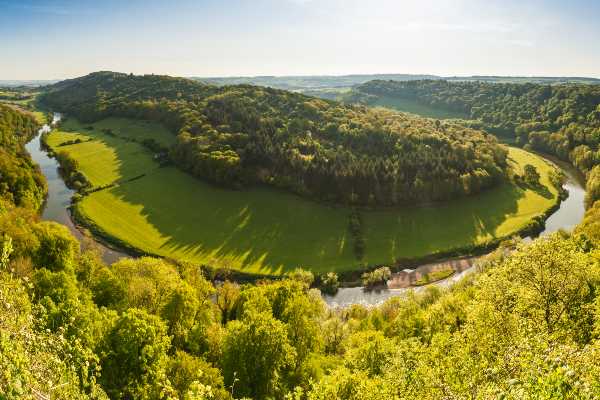 Herefordshire produces fabulous produce right on the doorstep. There are plenty of highly rated pubs and restaurants offering foodies and their families a fantastic tasting experience.
There's bustling farmers markets to attend, fascinating museums and The Courtyard theatre in Hereford is always worth a visit.
Contemporary art and craft galleries can be found tucked in cobbled city lanes and in pretty black-and-white villages, often in heritage buildings.
The popular market towns of Ledbury, Leominster, Bromyard, Kington and Ross-on-Wye welcome residents and visitors, boasting lots of small businesses if you are looking to buy something unique.
For more information on what Herefordshire has to offer take a look at the Visit Herefordshire website.
Travel networks
There are train stations at Hereford, Leominster and Ledbury providing regular services to all major cities in the UK. Larger cities and airports can be reached in under two hours and London is just over three hours by high speed train.
If you are travelling by car, the M5, M50 and nearby M4 provide excellent access to the UK and provide quick access to major cities and airports.
The average house price in Herefordshire is comparatively low compared to other south east cities. You get more for your money in the county and the added benefit of living in a beautiful rural area. Should you decide that you would like to live in the county, we offer a generous relocation allowance.
Childcare
Choosing the right childcare can be a difficult decision for every parent. There are plenty of excellent providers across the county.
You can find out more about childcare choices in Herefordshire by visiting the Talk Community website.
Schools and education
We work with our colleagues in schools, colleges and early years providers to give the best support we can to provide children with a great education that will support them as they move forward with their lives.
We have over 100 private and publicly funded primary, secondary and special schools in Herefordshire. We're proud of the high standards in education, with 96% of primary schools rated as good or outstanding by Ofsted and 80% of secondary school rated as good or outstanding, putting Herefordshire in the top three local authorities in the West Midlands.
Herefordshire also has the Hereford College of Arts, which has a dedicated specialist focus on art, media, design, popular music and performing arts. Hereford Sixth Form College is one of the most successful sixth forms in the country and has been graded as Outstanding in all aspects of its work by Ofsted. Herefordshire & Ludlow College are providers of high quality education and training from foundation studies through to degree level courses. The New Model Institute for Technology and Engineering (NMITE) offers a new and unique approach to engineering education.
Keep up to date with our latest news
You can keep up-to-date with the latest Herefordshire Council news in our Newsroom or by following us on Facebook, Twitter and Instagram.
For the latest Herefordshire travel news follow @HfdsStreets on Twitter.