Transforming Hereford Museum and Art Gallery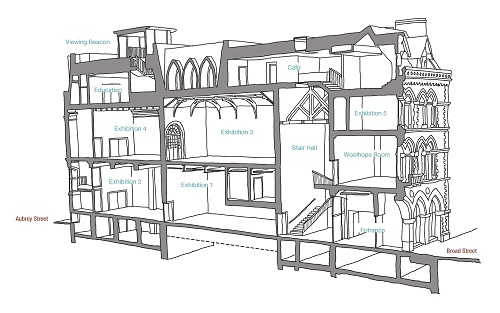 Cross section of the building layout, which shows entrance and stairwell, gallery spaces, education space, café, roof terraces, and viewing beacon
We are now at an exciting stage in our plans to redevelop Hereford Museum and Art Gallery.
With £5 million secured from the government as part of the successful #StrongerHereford vision and an additional £8 million council funding agreed, the project team are now working towards a £5 million bid to the National Lottery Heritage Fund in February 2023.
The funding is vital to secure the development of the building. It will allow more of our significant collections, including the Herefordshire Hoard, to be on display.
The £18 million redevelopment of Hereford Museum and Art Gallery will extend and transform the current building, creating a state-of-the-art museum offer of regional and national significance. It will include six new galleries and display spaces, a temporary exhibition space, the restoration of the historic Woolhope Club Room and new commercial areas including a retail space, and roof-top café and events/education space. A spectacular viewing beacon and roof terrace will be accessible from the fifth floor courtyard space providing incredible 360 degree views over the city and surrounding Herefordshire landscape.
The architectural plans have now been finalised and are subject to planning permission in January 2023. Designs for the new galleries and visitor spaces are under development. The gallery layouts will be finalised over the next year, subject to a successful National Lottery Heritage Fund bid.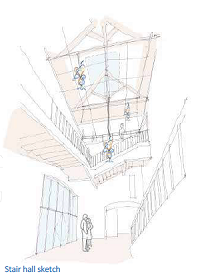 Stair hall sketch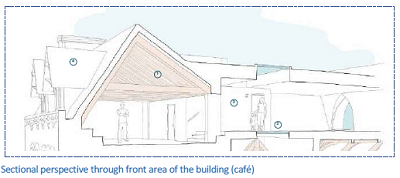 Sectional perspective through front area of the building (cafe)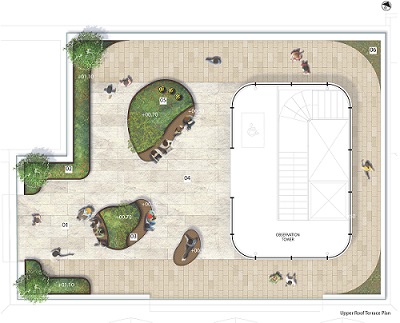 Upper roof terrace viewing beacon plan (design in development)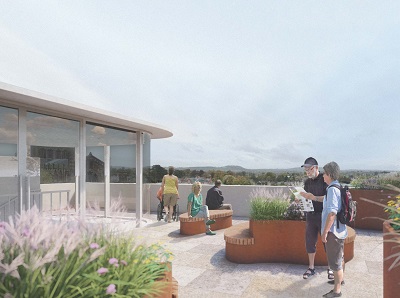 Indicative viewing beacon (design in development)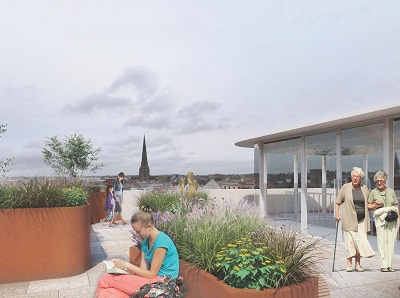 Indicative viewing beacon (design in development)
We have been establishing partnerships with local charities and organisations, and developing a new and exciting programme of activities and events ready for opening.
You will be given the opportunity to have your say on the planned development through public consultation, events and activities in 2023.
The doors to the completely refurbished museum are expected to open in summer 2025.
As part of the transformation of the museum building, Hereford Library will move to a new and revitalised site at the Maylord Orchards Centre.
In preparation for both redevelopment projects, Hereford Museum and Library will close in spring 2023. We are preparing an exciting programme of cultural activities reaching all corners of the county during the closure. A temporary library service will operate from a different part of the city during this time. More details will be announced soon.