Transforming Hereford Museum and Art Gallery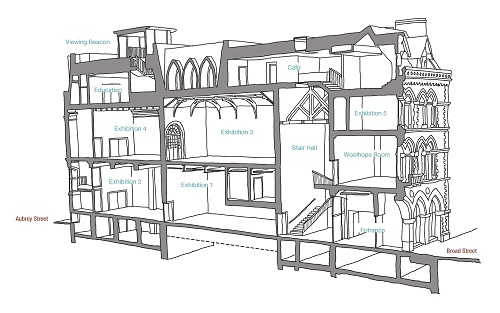 Cross section of the building layout, which shows entrance and stairwell, gallery spaces, education space, café, roof terraces, and viewing beacon
We are now at an exciting stage in our plans to redevelop Hereford Museum and Art Gallery.
With £5 million secured from government as part of the successful Stronger Hereford vision, and £8 million in council funding, the project team is awaiting news on its £5 million bid from the National Lottery Heritage Fund.
The £18 million funding is vital to secure the development of the building. It will allow more of our significant collections, including the Herefordshire Hoard, to be on display.
The redevelopment of Hereford Museum and Art Gallery will extend and transform the current building to create a state-of-the-art museum of regional and national significance. It will include new galleries and display spaces, a temporary exhibition space, restoration of the historic Woolhope club room and new commercial areas. They will include a retail space, roof-top café events and education space. A spectacular viewing beacon and roof terrace will be accessible from the fifth floor courtyard . This will give incredible 360-degree views over the city and surrounding Herefordshire landscape.
As part of the redevelopment, the Roman era mosaics which date to 350-380 AD, have been taken down from the stair hall and moved to the stores for safe keeping. This was a painstaking and delicate process that took four people three weeks to safely complete. We were able to produce a time-lapse of them coming down. The mosaics were first put up in the stair hall in 1927, 15 years after they had been found during excavations at Kenchester.
The architectural plans have been finalised and are subject to planning permission. Designs for the new galleries and visitor spaces are under development. The gallery layouts will be finalised over the next year, subject to a successful National Lottery Heritage Fund bid.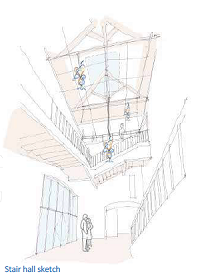 Stair hall sketch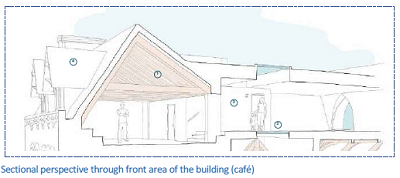 Sectional perspective through front area of the building (cafe)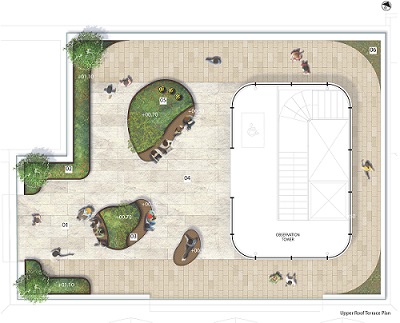 Upper roof terrace viewing beacon plan (design in development)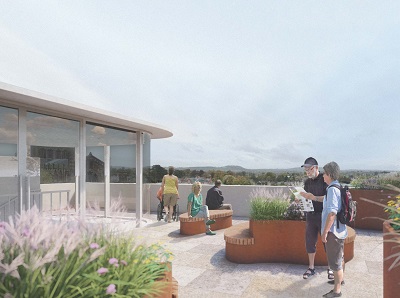 Indicative viewing beacon (design in development)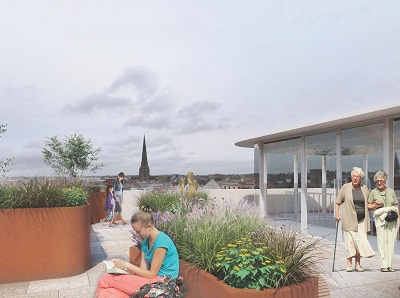 Indicative viewing beacon (design in development)