Book of Remembrance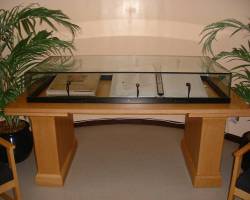 The Book of Remembrance is a historic, handbound book inscribed by skilled craftsmen using traditional materials and processes, available for viewing daily in its own room at the Crematorium. It contains memorial entries, dedicated by family and friends for specific dates, for example the day the person died, their birthday, or any other special day in their life.
There are three volumes of the Book; each one is updated once a year. Each volume remains open at the appropriate page for that day so that inscriptions may be viewed on the anniversary of the entry. If you cannot attend to view the Book of Remembrance on the day the entry appears, staff are available to turn the book to the page you require, by appointment. Please note the books are sent away periodically to the calligraphers to be inscribed so the volume you wish to view may not be available.
A memorial entry includes:
A personal memorial inscription on a chosen date for the person who has died
A memorial entry consisting of two to eight lines, with the first line being the person's name only
A simple illustration such as a flower, badge, coat of arms or other illustration according to practicality and choice
If you have a particular design in mind, please ask. It may be possible to work from a reference you provide. Prices may vary.
We can also produce memorial keepsakes to provide personal family information and are suitable for keeping at home or to send to distant relatives or friends who are unable to visit the crematorium:
Triptych memorials: The triptych memorial is a tri-fold folder with three panels in high quality book cloth or smooth leather. A triptych memorial can contain digital photographs, poems, inscriptions.
Memorial cards: There are a number of options for memorial card designs and your personal choice of inscription. The application form for a memorial card gives details of inscription length.
Find out more in the cremations, burials and memorials fees and forms directory
Bereavement services contact details
Address:
Crematorium Office, Westfaling Street, Hereford HR4 0JE
Send Email