Crematorium memorials
There are a range of memorials available at Hereford Crematorium, depending on whether you wish to inter the cremated remains or simply place a memorial or dedicate a tree or bench. There are three memorial gardens where cremated remains can be interred or scattered and memorials laid or dedicated:
Garden of Remembrance
This is an area where cremated remains can be are interred. The garden is designed to create an atmosphere of peace and serenity. It includes a more formal area with initial pathways flanked by kerbs displaying bronze and granite memorial plaques. There are designated areas for memorial vases to be placed with the plaques. The paths lead to a more informal area, with memorial trees and benches and a lawn where cremated remains are interred. There is also the Book of Remembrance Room, which holds the Book of Remembrance containing memorial entries.
Memorials available in the Garden of Remembrance
Garden of Reflection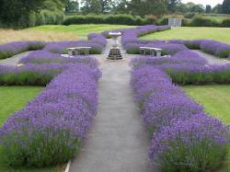 This is an area where cremated remains can be scattered on a lawn area within the garden. The grass in the garden is allowed to grow naturally and will be sown with wild flowers. Cremated remains can also be placed by a memorial tree within a memorial vault. Granite memorial plaques can be purchased and positioned on a variety of memorials, including granite books and benches, a birdbath pedestal memorial and kerb memorials.
Memorials available in the Garden of Reflection
Millennium Garden
This garden offers an area for the interment of cremated remains and for memorials including individual or double memorial vaults and memorial vase blocks.
Memorials available in the Millennium Garden
Search the cremations, burials and memorials fees and forms directory
Bereavement services contact details
Address:
Crematorium Office, Westfaling Street, Hereford HR4 0JE
Send Email