Getting it right
Recycling better together
Thank you for recycling.
While we've seen great improvements, 2,900 tonnes of material was still rejected by our recycling partner last year.
Envirosort tell us that's enough to fill over 250 rubbish lorries.
Our Getting it right campaign will help everyone put all the right things into their green bins and clear recycling sacks. Better recycling means a better environment for everyone.
How we collect your recycling
We collect your recycling fortnightly using green wheeled bins. Where wheeled bins are not appropriate, recycling is collected using the clear plastic sacks we provide.
What we collect for recycling from your home
The recycling we collect is sent to our Envirosort recycling facility. Check their guide below to see what you can put in your green recycling bin or clear plastic recycling sack in Herefordshire.
Envirosort - What can I put in my recycling bin or recycling sack?
Download our handy guide What can I put in my recycling bin?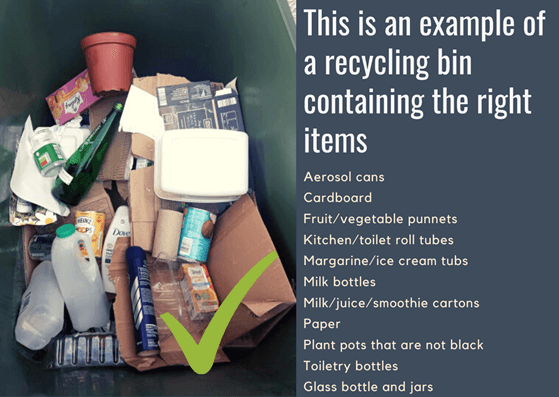 Make sure your recycling is clean - a quick rinse under the tap to remove any residue will do
Make sure your recycling is loose in your green bin - please don't put it in a plastic bag and put the bag in your bin
A big thank you for helping us to recycle 41 percent of our waste last year in Herefordshire.
Items that SHOULD NOT be put out for recycling collection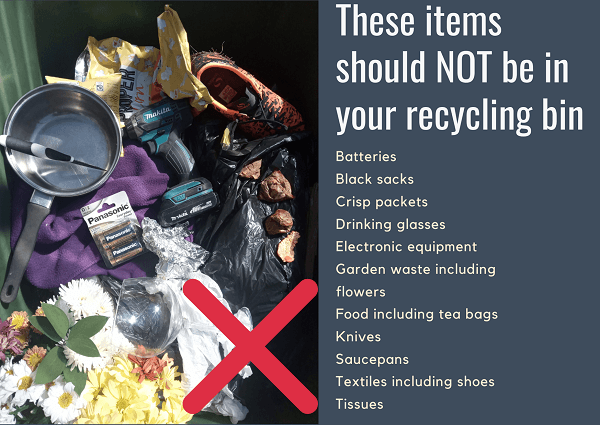 Recycling contamination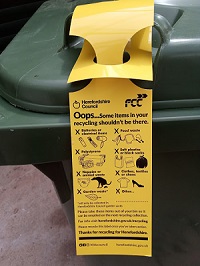 Contamination is any material you put out for your recycling collection that cannot be recycled through the collection service in Herefordshire.
If your green bin or clear sacks are contaminated with the wrong materials our collection crew will not collect it and they will leave a yellow 'Oops' tag on it to make you aware of what the contamination is.
You will need to take the items that cannot be recycled out of your green bin or clear sacks and, depending on what the items are, put them in your general waste or take them to your local household recycling centre.
Contamination can result in an entire lorry full of good recycling being rejected when it is sent to EnviroSort. This means the load will be then be sent to incineration instead of being recycled. It can also cause delays to our collection rounds and in emptying residents' bins.
When you have removed the contaminating items your green bin can be emptied, or clear sacks collected, on your next scheduled collection. Our crews are not able to make a special trip back to collect any bins or sacks that were marked contaminated.
If you continue to put the wrong items out for collection
On the first occasion, your recycling will be labelled as contaminated and will not be collected. The tag will say what you need to remove before it is collected
If your recycling is contaminated on multiple occasions, you will be contacted by waste management and offered further advice and help to identify which items can and cannot be collected for recycling
If, after this, you continue to contaminate your recycling, we may remove the recycling bin from your property
If we remove your recycling bin you will probably find that you do not have enough space in your black bin for all your rubbish. You will have to find another way to recycle such as taking your recycling to a household recycling centre. Any extra rubbish can also be taken to a household recycling centre.