Getting it right - recycling
Recycling better together
Thank you for recycling. While we've seen great improvements, 2,900 tonnes of material were still rejected by our recycling partner last year.
Envirosort tell us that's enough to fill over 250 rubbish lorries.
We know that there is some confusion about what can and can't be recycled at home.
Below are the four most common items that we find in people's recycling that shouldn't be there:
We call this contamination. Getting it right will focus on these four areas.
None of these items can be recycled in your clear recycling sacks or green recycling bin. So please don't put them in!
Our campaign will provide you with information on what to do with these items so we are all Getting it right.
Soft plastics
Soft plastics are lightweight flimsy plastics that you can easily scrunch up in your hand without any resistance. Items such as:
Carrier and bread bags
Plastic film lids on yoghurt pots, ready meals, and soft fruit punnets
Crisp packets, chocolate and biscuit wrappers
Pet food pouches
Our recycling sorting plant Envirosort say "they cause technical issues with the automated sorting equipment, causing mis-sorting and the rejection of otherwise good materials". That's why we ask you to leave these plastics out of your recycling.
Soft plastic can now be recycled at most supermarkets. Just give it a quick rinse (if needed), pop it to one side and take it with you on your next shopping trip.
Try Recycle Now's Recycling Locator to see if your local supermarket is recycling soft plastics.
Food waste
Food cannot be recycled in your clear recycling sacks or green recycling bin. If the bin crews find any food in your recycling they will not collect your recycling. Therefore it's best to leave that half-eaten sandwich out and pop it in your general rubbish or home compost bin.
All recycling needs to be free of food, clean and dry before you put it in your recycling. A quick rinse under the tap to remove any residue will do.
If any food ends up in your recycling it can make other recycling dirty, like paper and card, which then means it can't be recycled, at our recycling plant Envirosort. So, if you put any food in your recycling, it's not just your recycling that could be ruined, you could contaminate an entire lorry full of recycling.
In Herefordshire over 40% of the rubbish in the average black bin is food waste and its packaging. A lot of this is compostable material like vegetable peelings. The most environmentally friendly thing to with this is to compost it at home!
By far the best way to reduce food waste is to buy only what you need and to use all that you buy. Food is best on your plate for you to enjoy.
Some simple tips to reduce food waste:
Write a shopping list so you only buy what you need
Plan your meals
Store the food you buy correctly
Keep an eye on your portion size
Get creative with left overs
For more advice and ideas on how to reduce your food waste visit Love Food Hate Waste
If you need to dispose of food waste please put it in your black bin. However the best thing to do is not to produce it at all!
Batteries and small electrical items
Batteries
Please do not put batteries of any size or small electrical items like kettles or toasters in your black or green bin. We will not empty it.
Batteries can be very dangerous and even cause fires in bin lorries or at our recycling sorting site.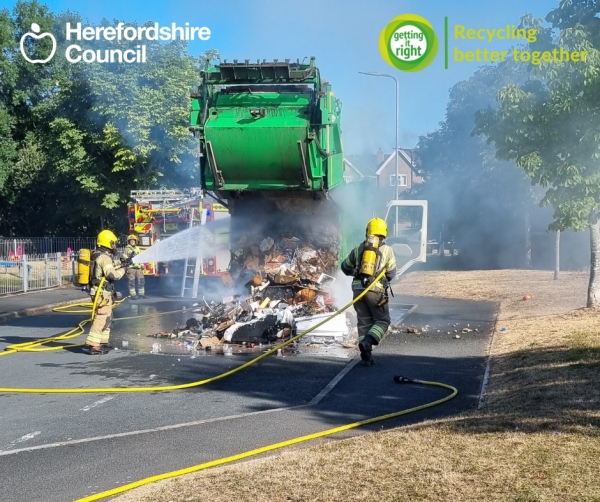 Take Charge raises awareness of the damage batteries can cause, if disposed of incorrectly.
Many electrical retailers, supermarkets and household recycling centres accept batteries that are no longer working or of use. Find more information about the safe disposal of batteries.
Smaller electrical items
Rather than throwing away your small electrical items, repair might be an option. Check out our repair pages for more information. Don't bin it, mend it!
Some electrical goods that are still in working order can be donated to charity or sold to help you fund something new.
Smaller electrical items can often be returned to larger retailers that sell similar goods.
For example, Currys will take back smaller electrical items even when you haven't purchased the item from them. When it comes to smaller, more valuable items like mobile phones or tablets have a look a specialist repairers or recycling sites online.
If you're having a new large electrical item delivered such as a TV, fridge or washing machines, check to see if the supplier will take away your old one and the packaging. This may save you time and effort of working out how you're going to take it to your local household recycling centre.
Remember we offer a large item collection service if you are unable to take items to the household recycling centre. This includes large electrical items and furniture.
Find out more about the safe disposal of small electrical items.
Nappies
Nappies cannot be recycled in your green bin so please do not put them in. Did you know disposable nappies are made from plastic and need to be placed in your general rubbish.
Modern reusable nappies are easier to use than ever and are a great way of reducing your waste and saving you money.
Why not take a look at our reusable nappy page and see if you want to make the switch.