Garden waste and composting
Garden waste should not be placed in general rubbish or recycling bins or sacks.
Ways you can manage your garden waste:
Compost at home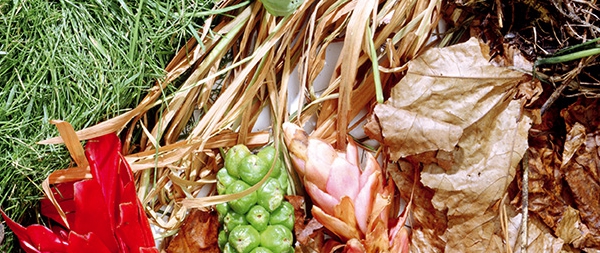 Composting at home is the best way to deal with garden waste. It is the most environmentally friendly and carbon neutral option for processing your garden waste. It will:
Save space in your black bin
Save you money on green garden sacks or trips to the recycling centre
Let you produce your own nutrient rich compost for your garden
There are options to suit the scale of your garden or the amount of garden waste you produce.
You can compost both garden waste and some food waste such as fruit and vegetable peelings
Specialist compost bins are available for composting other types of food waste
You can purchase compost bins at getcomposting.com.
Find out more about how to get started with composting at RecycleNow, including what you can compost.
Compost at recycling centres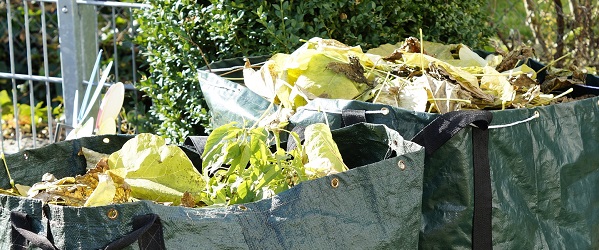 There are composting facilities for garden waste at all our household recycling centres.
Compost purchase at recycling centres
You can buy the soil improver/compost made from garden waste at our household recycling centres. The soil improver costs £2 a bag. Payment must be made by card. Cash cannot be accepted at any sites. You will need to pre-book in order to visit the recycling centres.
Garden waste collections - green sacks
If you are unable to compost at home or take your garden waste to a recycling centre, you can purchase Herefordshire Council green sacks to dispose of your garden waste.
Waste put out in green sacks is not composted. It is sent for disposal and used as a fuel to create electricity. This will be changing with the introduction of the new waste collection services in 2023.
Garden waste must not be placed in your general rubbish or recycling containers or bags.
We can only collect garden waste if it is placed in Herefordshire Council green waste sacks.
We collect garden waste sacks fortnightly at the same time as your general rubbish.
If you are going to put out more than 10 garden waste sacks at a time please call our Customer services team on 01432 260051. Under current circumstances we are prioritising general rubbish collections so cannot guarantee collections of very large numbers of green bags from individual households.
Under the Environmental Protection Act (1990) and schedule 1(4) of the Controlled Waste Regulations (2012) local authorities can charge for the collection of garden waste. We make such a charge through the sale of our green sacks.
Purchase green sacks for garden waste
A roll of five garden waste sacks costs £5.64. These are available for Herefordshire residents only. You can buy online and choose which of the following libraries to collect from: Hereford, Belmont, Colwall, Kington, Ledbury, Leintwardine, Leominster or Ross-on-Wye. Or you can visit one of the outlets listed below to purchase directly.
Buy sacks online by completing this form
Buy Herefordshire Council garden waste sacks
You will need to:
Order and pay for the sacks online
Select which library you will collect from
Allow two working days (excluding the day of payment) before going to collect the sacks from your chosen library
Show your purchase receipt, which we will email to you, when collecting sacks
Buy sacks from an outlet - retail price set by outlet
Buy Herefordshire Council garden waste sacks directly from:
53 St Owen Street Stores, HR1 2JQ
Bartestree Village Stores
Bartonsham Stores
Belmont Community Centre, Eastholme Avenue, Belmont, HR2 7UQ
Clehonger Stores
Eardisley Post Office
Family Shopper, 47 Brampton Road, HR2 7DR
Halls of Bromyard, Tenbury Road, Bromyard, HR7 4LL
Hereford City Council, Town Hall, St. Owen Street, Hereford, HR1 2PJ
Kingstone Stores
Leominster Tourist Office, Corn Square
Lyonshall Nurseries, Kington, HR5 3LN
Marden Post Office and Village Stores Marden Hereford, HR1 3EW
Moreton on Lugg Stores
Newton Farm Community Association
Philpotts Nursery, Cursneh Road, Leominster, HR6 8DQ
Poston Mill Caravan Park, Peterchurch, HR2 0SF (open 8.30am - 5pm 7 days per week)
Premier Shop, 31-33 Kilpeck Avenue, HR2 7DT
R & A News and Stores, 55 Broad Street, Hereford, HR4 9AB
The Old School Shop, 6 Portland Street, Weobley, HR4 8SB
The Poston Shop, Poston Mill Park, Golden Valley, Peterchurch, Hereford, HR2 0SF
Tupsley Community Coffee Shop, Hampton Park United Reform Church, Hereford, HR1 1UJ (Wednesday 10 - 12am)
Wellington Village Stores
Prices at these outlets may vary from that above and stock is not guaranteed.
Brown bins
Please note that the brown 'Green Waste Club' bin service is a commercial service, not provided by Herefordshire Council.