Universal health services for all children and young people
If you need health advice or treatment for your child or young person, universal health services can be used by everyone in Herefordshire.
You do not need an assessment or referral to use them but you may need to make an appointment.
Self care
Self care is about keeping fit and healthy, understanding when you can look after yourself, when a pharmacist can help, and when to get advice from your GP or another health professional.
If you have a long-term condition self care is about understanding that condition and how to live with it.
NHS UK has a number of guides and support available for a range of common illnesses and injuries. To find out more visit their Health A-Z
You can search for locally accredited digital apps on ORCHA
HANDi App from the Herefordshire and Worcestershire Integrated Care System helps you identify your child's symptoms and get NHS approved advice
Newborn screening
All parents are offered a thorough physical examination for their baby within 72 hours of giving birth.
The examination includes screening tests to find out if your baby has any problems with their eyes, heart, hips and, in boys, testicles (testes).
Find out more about the baby and newborn screening physical examination on the NHS website.
The newborn hearing screening test helps identify babies who have permanent hearing loss as early as possible. This means parents can get the support and advice they need right from the start.
Find out more about newborn hearing screening on the NHS website or speak to your Midwife or Health Visitor.
Health visitor
Health visitors are qualified nurses or midwives who have additional training in specialist community and public health nursing. They have specialist training in children's development and health promotion.
Health visiting teams run health visiting clinics and they are open to the parents and carers of children under five years old. They offer parents and carers the opportunity to discuss any concerns about your child's health or development and have them weighed.
The clinics offered are a mixture of booked appointments and drop in sessions.
Find out more about health visitors.
School nursing team
School nurses are public health nurses working in the community. They are registered nurses with an additional public health nursing qualification.
School nurses have specialist knowledge and skills to enable them to work with children and young people aged from 5-19. School nurses and school nurse assistants have specific skills and knowledge to help children and young people with their health needs by providing information, support and advice on topics such as sexual health, healthy diet and exercise, alcohol use, substance misuse, emotional wellbeing and mental health including self-harm.
This support is delivered through one to one sessions, small groups and on a larger scale in school assemblies.
Find out more about the school nursing team.
Visiting a pharmacist
As qualified healthcare professionals, pharmacists can offer clinical advice and over-the-counter medicines for a range of minor illnesses, such as coughs, colds, sore throats, tummy trouble and aches and pains.
If symptoms suggest it's something more serious, pharmacists have the right training to make sure you get the help you need. For example they will tell you if you need to see a GP, nurse or other healthcare professional.
NHS 111
NHS 111 can help if you have an urgent medical problem and you're not sure what to do. NHS 111 is available 24 hours a day, 7 days a week.
Contact NHS 111 online or call 111 to talk to someone on the phone.
Visiting the GP (doctor)
General practitioners (GPs) treat all common medical conditions and refer patients to hospitals and other medical services for urgent and specialist treatment.
Before you make an appointment to see your GP, think about other services that might be able to help.
Visiting the dentist
Children and young people do not have to pay for NHS dental services if they are under 18, or under 19 and in full time education.
Visiting the hospital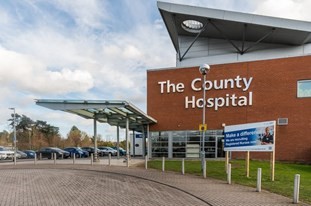 You'll usually need a GP referral to access hospital treatment, except in an emergency.
Before your appointment, you'll receive a letter, email or text message from the hospital that includes everything you need to know about your appointment.
Vaccinations
Vaccinations protect you and your child from many serious and potentially deadly diseases.
They can also protect other people in your community - by helping to stop diseases spreading to people who cannot have vaccines.
Find out about vaccinations and when to have them.
Opticians
Having a regular eye check can help make sure your eyes are healthy and detect any issues which may need treatment.
Eye checks are free for children under 16 or under 19 if they are in full time education. Others with certain conditions or who receive specific benefits may also be eligible.
Children are issued with a voucher to help towards the cost of glasses, and others eligible are outlined in the link below.
Find out about free NHS eye tests and optical vouchers.