Hereford Museum and Art Gallery

Hereford Museum collections
Hereford Museum and Art Gallery is housed in a spectacular Victorian gothic building. The museum has been exhibiting artefacts and works of fine and decorative art connected with the local area since 1874. Although the exterior of the building has changed very little, the museum and gallery have kept up with the times. Today the museum is full of interesting local history with interactive elements for all the family.
Exhibits highlight Herefordshire's local culture, its heritage in farming and production, the natural environment and its special place as a border county. Come and find out how life has changed here over the centuries.
There's lots to explore including a hive of live bees, a two-headed calf, a two metre long fish, swords of every shape and size, elements of costume and textiles and much more besides.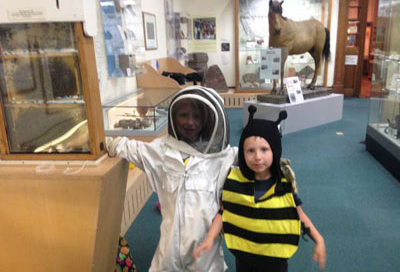 Children dressed as bees standing by the live beehive in Hereford Museum
The exhibitions begin in the foyer of the building with a regularly changing small display in the foyer case. The beautiful Roman mosaic excavated at Kenchester adorns the stairs and around the walls of the museum is a timeline created by wood engraver Harry Brockway which sets out the major periods of history and depicts local events, places or museum objects.
Opening times - free admission
Tuesday - Friday 10am - 4pm
Saturday 10am - 12.30pm
Inside Out
Take a look at our exciting new project bringing pieces from our extensive collections right into your community. Find out more about Inside Out and watch the video.
Art gallery exhibition
The art gallery hosts a regularly changing variety of high quality temporary exhibitions.
View future exhibitions and events at Hereford Museum and Art Gallery
Experience some of our past and current exhibitions with a virtual tour.
Exhibitions in the Brian Hatton gallery
The Brian Hatton gallery usually displays art works by local artist Brian Hatton, who was killed in the First World War.
Where to find us
Accessibility
Hereford Museum and Art Gallery and the Woolhope Room are on the first floor of a historic building. Access is via stairs only. If you have any concerns about physical access please contact us before visiting.
Facilities available
Accessible toilet on ground floor
Baby changing facilities on ground floor
Parking - limited parking on Broad Street, with nine parking bays for a maximum 30 minutes stay. There are three disabled parking bays outside the Museum and Art Gallery and eight within 100 metres for a maximum three hours stay. See further information about Hereford car parks