Exhibitions and events
Keep up to date with all our events
You can find the latest events, exhibitions and activities at all our museums in Hereford in our Events calendar. Select a location to find out what's happening there.
And follow Hereford Museum and Art Gallery on Facebook and Twitter, and the Black and White House Museum on Facebook and Twitter to keep right up to date with what's going on.
Grayson Perry: The Vanity of Small Differences
9 October to 18 December 2021 at Hereford Art Gallery
Tuesday to Saturday 10am - 4pm
Adults £5, students with ID and under 18s free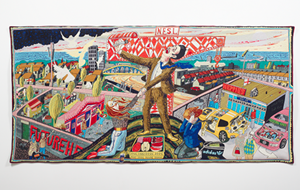 Grayson Perry's The Vanity of Small Differences tells the story of class mobility and the influence social class has on our aesthetic taste. Inspired by William Hogarth's A Rake's Progress the six tapestries, measuring 2m x 4m each, chart the 'class journey' made by young Tim Rakewell and include many of the characters, incidents and objects Grayson Perry encountered on journeys through Sunderland, Tunbridge Wells and The Cotswolds for the television series 'All in the Best Possible Taste with Grayson Perry'. Hereford is delighted to be able to host this international touring exhibition of work from an artist who is a household name.
Visit the Vanity of Small Differences exhibition page
Image credits and exhibition sponsors: Arts Council Collection, Southbank Centre, London and British Council. Gift of the artist and Victoria Miro Gallery with the support of Channel 4 Television, the Art Fund and Sfumato Foundation with additional support from Alix Partners.
---
Herefordshire Gets Creative
9 October to 18 December 2021
Tuesday to Saturday 10am - 4pm
Individual and community responses to Grayson Perry's exhibition 'The Vanity of Small Differences' by the people of Herefordshire. Exhibition around Hereford Museum, the Woolhope room and Hereford Library.