Exhibitions and events
Keep up to date with all our events
You can find all the latest events, exhibitions and activities at all our museums in Hereford in our news and events section.
And follow Hereford Museum and Art Gallery on Facebook and Twitter, and the Black and White House Museum on Facebook and Twitter to keep right up to date with what's going on.
---
May Fair 900
18 May – 23 June 2021 at Hereford Art Gallery
Tuesday - Friday 10am to 4pm; Saturday 10am to 12.30pm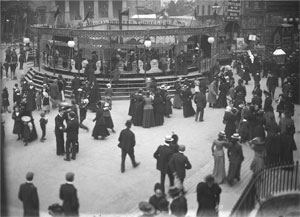 Celebrating 900 years of Hereford May Fair, the oldest surviving chartered fair in Britain. Historical fairground memorabilia and photographs, archive footage and stories of all the fun of the fair. The Art Gallery will have an exhibition as part of a city-wide programme of exhibitions and events relating to the May Fair.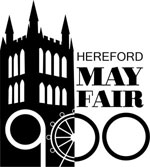 For more information and details of the celebrations happening from April through to August 2021:
---
'Round the Year From Stonewall Hill. A journey in Time and Space'
3 July - 21 August at Hereford Art Gallery
Tuesday 10am - 4pm; Saturday 10am -12.30pm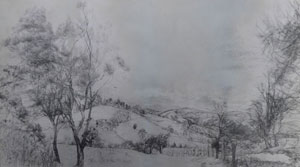 Paintings by Mary Rennell. With Richard Gilbert and Brian Griffiths (curated by Hugh Fowler-Wright)
On loan from the National Library of Wales an 8.3m panoramic landscape journey painted in 1967/68 by Mary Rennell of The Rodd Presteigne, is on display for the first time in 50 years. In response to Mary Rennell's panorama are paintings by Richard Gilbert and photographs by Brian Griffiths.
---
'Inspired by Local Heroes' by artist Susan Edwards
1 - 29 September (as part of hArt 4 - 25 September) at Hereford Art Gallery
Tuesday - Friday 10am - 4pm; Saturday 10am - 12.30pm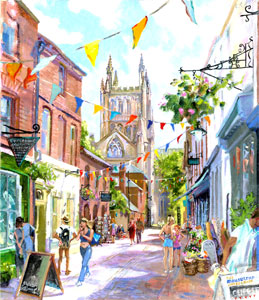 Dame Laura Knight RA, David Cox RA and John Ward RA - all three famous artists - lived and worked in Herefordshire. Alongside examples of their work selected by Susan Edwards from the Museum's collections, Susan will be exhibiting her own work of local Herefordshire landscapes, portraits, interiors and figure studies inspired by the subjects and the techniques of her 'local heroes'.
---
Grayson Perry: The Vanity of Small Differences
9 October to 18 December 2021 at Hereford Art Gallery
Tuesday to Saturday 10am - 4pm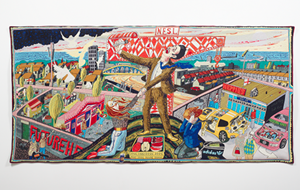 Grayson Perry's The Vanity of Small Differences tells the story of class mobility and the influence social class has on our aesthetic taste. Inspired by William Hogarth's A Rake's Progress the six tapestries, measuring 2m x 4m each, chart the 'class journey' made by young Tim Rakewell and include many of the characters, incidents and objects Grayson Perry encountered on journeys through Sunderland, Tunbridge Wells and The Cotswolds for the television series 'All in the Best Possible Taste with Grayson Perry'. Hereford is delighted to be able to host this international touring exhibition of work from an artist who is a household name.
Visit the Vanity of Small Differences exhibition page
Grayson Perry: The Vanity of Small Differences - community art project
Community art project to tie-in with exhibition at Hereford Art Gallery
Submit now until 4 September 2021
Get inspired by Grayson Perry's tapestries which explore the British fascination with taste and class - and create your own artwork.
We would like to display your works of art, inspired by The Vanity of Small Differences, in the Museum at the same time as exhibition, from 9 October to 18 December 2021. For more details:
Visit The Vanity of Small Differences exhibition page
Image credits and exhibition sponsors: Arts Council Collection, Southbank Centre, London and British Council. Gift of the artist and Victoria Miro Gallery with the support of Channel 4 Television, the Art Fund and Sfumato Foundation with additional support from Alix Partners.
---
Additional displays 2021
Other Worldy by Jeanette McCulloch
13 April – 9 May Hereford Museum
On display in Hereford Museum street front windows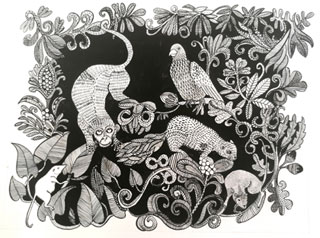 A window exhibition of lino prints and drawings inspired by the carvings on the exterior of the Hereford Library, Museum and Art Gallery. The artwork was a commission from the Herefordshire Partnership which celebrates Herefordshire. As part of this project Jeanette ran art workshops with residents and their friends, from Great Western Court who produced textiles and other art which feature in a book called Other Worldly.
---
RURALities
17 May - 27 June Hereford Museum
On display in Hereford Museum street front windows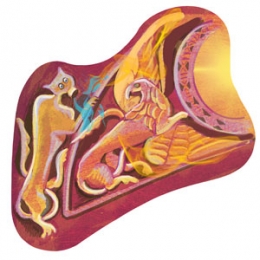 As part of its innovative digital commissions programme, Meadow Arts will present the work of Martha Kelsey. The young artist has been on a series of adventures to discover the exceptional and mysterious stone carvings that adorn isolated rural churches of Herefordshire. Capturing videos and drawings, she has manipulated the stone carvings into vibrant animations, bringing the digital dimension to the age-old tradition of the medieval Hereford school of carving.
---
'Alfred Watkins' (Museum Service & Woolhope Club)
19 June – 11 September in the Museum and the Woolhope Room
Tuesday - Friday 10am - 4pm; Saturday 10am - 12.30pm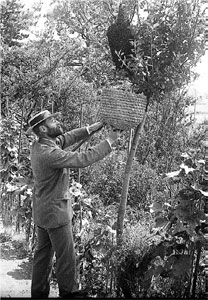 Victorian antiquarian, photographer, and local business entrepreneur, Alfred Watkins, is known for his invention of the photographic exposure meter, interest in bee keeping, and his theory of Ley lines - invisible connective ancient lines across the landscape that he outlined in his book 'The Old Straight Track'.