Exhibitions and events
Keep up to date with all our events
You can find the latest events, exhibitions and activities at all our museums in Hereford in our Events calendar. Select a location to find out what's happening there.
And follow Hereford Museum and Art Gallery on Facebook and Twitter, and the Black and White House Museum on Facebook and Twitter to keep right up to date with what's going on.
View virtual tours of some of our past exhibitions
The Herefordshire Hoard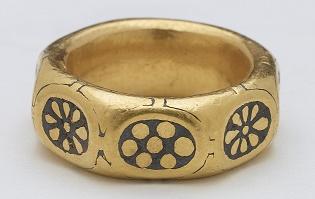 Visit the Herefordshire Hoard
The Hoard treasure is now housed at the Hereford Museum Resource and Learning Centre (MRLC).
See the Herefordshire Hoard on display in 2023:
Thursday, January 26 - 10 am to 1pm
Tuesday, February 21 - 10am to 3pm - Family Activity Day
Thursday, March 23 - 10am to 1pm
No need to book - just turn up on the day!
Visit the Herefordshire Hoard website to discover more about the story behind this fascinating treasure trove which, thanks to a successful fundraising campaign will be coming home to Herefordshire.
The Herefordshire Hoard is an Anglo-Saxon and Viking age hoard buried around 878. The items recovered to date include a gold arm bangle with beast head clasp, a magnificent pendant made from a rock crystal sphere encased within a gold decorative cage, a gold octagonal ring with black inlay, a silver ingot and twenty nine coins mostly of Alfred the Great of Wessex and Ceolwulf II of Mercia.