The Black and White House Museum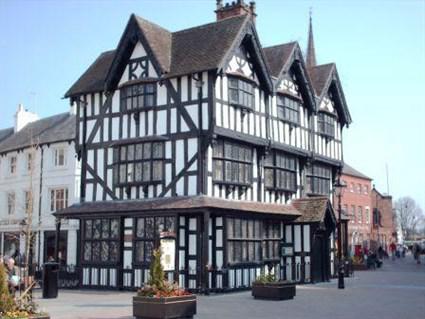 The Black and White House is a remarkably well preserved example of a 17th Century timber-framed building and is situated in the heart of Hereford, surrounded by the commercial centre of the city. It is a startling sight, standing as the sole reminder of times-gone-by in the middle of a modern shopping precinct.
Built in 1621, the house has been used for many purposes over the years, starting life as a butcher's home and shop and finishing its commercial life in the hands of Lloyds Bank in the late 1920s. Since 1929 it has been a fascinating museum giving an insight into daily life in Jacobean times. It is furnished in period style with an internationally important collection of English oak furniture and there are interesting pieces in every room. Of particular interest to many visitors are the rare wall-paintings, the four-poster bed and the baby-walkers.
There are hands-on activities for children including replica clothing and puzzles.
For those unable to climb the stairs, a virtual tour is situated on the fully-accessible ground floor. There are also Braille and tactile images for the blind and visually impaired.
Please note parking is available close by. Take a look at the council car parks page. There are public toilet facilities nearby, but not on site.
Opening times
We are open for late night shopping on Wednesday 6 December 2023, 4pm - 6.30pm. Free entry.
Tuesday to Saturday 10am - 4pm
Sunday 12 noon - 3pm
Bank holidays 10am - 4pm
Museum shop
Our small museum shop sells postcards, gifts and greetings cards including unique gifts created by local craftspeople.
Admission charges
Special Offer: 2 adults and a guide book £10
Adults - £3.50
Children - free*
Students with ID - free
Access to ground floor only - £1.50
Adult annual pass - £10
*Children under 16 must be accompanied by a paying adult.
Telephone: 01432 260694
School visits
School workshops are available on Mondays, by appointment, during school term time. View the workshops below for more information and to book:
School visits by appointment only please.