Adapting to a changing climate
The warming climate will affect us all. The local impacts for Herefordshire include more intense and frequent extreme weather events such as flooding, heatwaves and storms. Even if all emissions stopped today, we have to adapt to the one degree warming that's already happened and the changes this will bring. However, the sooner we cut emissions, the smaller these changes will be.
Adapting involves:
Understanding the potential impacts
Increasing resilience through adaptive measures (for example - making sure you have sufficient insurance or that you have sandbags ready in times of potential flooding)
Planning for impacts (for example, making a flood plan, planning alternatives routes to work/home)
Record-breaking floods - February 2020
In February 2020, Herefordshire experienced record-breaking water levels, with the River Wye reaching the highest levels in Hereford since records began.
Dave Throup, Environment Agency Manager for Herefordshire and Worcestershire, said:
"What I've seen over the last few days isn't normal. It isn't even the new normal. It's going to get worse. We need to adapt and respond. And fast."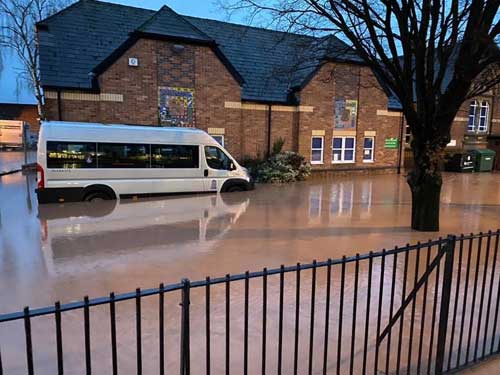 Holmer Primary School, Hereford in the floods February 2020.
Our Level 1 Strategic Flood Risk Assessment (SFRA) published in April 2019, assesses the risk of flooding from all sources, now and in the future. It takes into account the impacts of climate change and assesses the impact that land use changes and development within Herefordshire could have on future flood risk.
For more information on making your own preparations for possible flooding, please see our flooding pages.
Contact us with your climate change feedback
We're keen to hear your ideas for reducing emissions or other ways to help get the council and county to net zero. Please email us your suggestions:
Send Email