Our climate emergency declaration
In response to increasing awareness of the impacts of climate change, Herefordshire Council declared a climate emergency on 8 March 2019.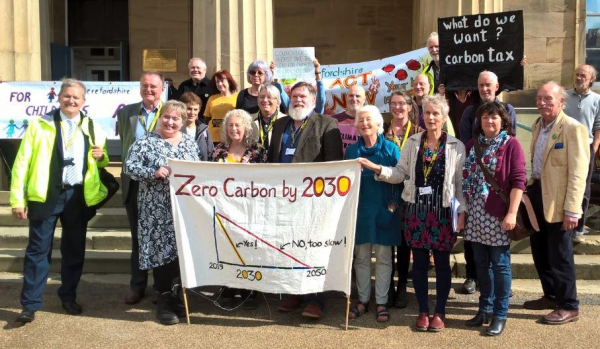 Council resolves to set a target of zero carbon by 2030
Following this, in September 2019, we committed to take a major step to minimise our impact on the environment, agreeing to:
Accelerate a reduction of emissions and aspire to become carbon neutral by 2030/31
Deliver an updated carbon management plan and associated action plan for council emissions by April 2020
Work with strategic partners, residents and local organisations to develop a revised countywide carbon dioxide reduction strategy aspiring for carbon neutrality by 2030
Use 100% renewably sourced energy where this provides the best carbon reduction return on investment
View the cabinet meeting report under agenda item 6, Appendix 1, Executive Response to the Climate Emergency.
A Task and Finish Group was established to carry out a climate emergency review to contribute to the design and delivery of the council's new climate change commitments. The group reported back to the general scrutiny committee on Monday 25 January 2021.
Cllr Ellie Chowns, Cabinet member for Environment, Economy and Skills, said: "I welcome the outcome of the Task and Finish Group's report on the Climate and Ecological Emergency review and am pleased that the committee will now submit the findings and recommendations to Cabinet for consideration.
"Herefordshire Council is committed to becoming carbon neutral by 2030/31, and declared a climate emergency in March 2019. In December 2019 this declaration was strengthened to a 'climate and ecological emergency', which demonstrates the council's commitment to protecting Herefordshire's natural environment, biodiversity and wildlife."
"Climate and ecological change is a huge challenge that we must face together and I am proud to say that Herefordshire Council is leading the way in tackling climate and ecological issues. We have relaunched our Carbon Management Plan with an ambitious interim target and action plan for a 75% reduction by 2025/26, we have successfully secured numerous grant funds for new climate and ecology projects such as the green home grant scheme supporting with home energy efficiency, a new green space enhancement project as part of the Towns Fund to increase tree coverage and we are working with partners to develop a new countywide action plan to become carbon neutral and nature rich by 2030."
"Residents, community organisations and businesses can join us by making their own changes, from making homes more energy efficient, reducing and recycling waste and choosing alternatives to car travel. Together we can better protect the environment and preserve our wonderful county for future generations."
Contact us with your climate change feedback
We're keen to hear your ideas for reducing emissions or other ways to help get the council and county to net zero. Please email us your suggestions:
Send Email