Road surface dressing programme 2023
Surface dressing is an important part of our road maintenance programme and is used to prolong the life of roads across the county.
Surface dressing is a road maintenance technique that involves applying a layer of bitumen binder to the existing road surface followed by a layer of stone chippings. The chippings are then rolled into the binder to create a durable and skid-resistant surface. This process helps to seal the road surface, preventing water from penetrating and causing damage to the underlying layers. This also helps to prevent potholes from forming. Read more about the surface dressing process below.
It is a quick process and usually only takes a few hours to complete, meaning we can sometimes treat several roads in one day. A sweeper will travel along the newly treated roads the following day to clear any immediate loose stones.
We typically treat roads during the summer because surface dressing can only be carried out when the road is dry. If it rains, the work has to stop and the whole programme of work is affected. If there are any changes to the programme, we will update the on-site yellow information signage with the new date.
All our road information is available on our roadworks map.
In Herefordshire, we use asset management prioritisation to determine which roads receive maintenance or treatment based on their condition. This process is important to ensure that limited resources are allocated to the roads which require the most attention.
Surface dressing is a preventative maintenance treatment that is best used before the road condition deteriorates significantly. It may look like we're spending money on perfectly adequate roads while there are others in a worse condition, however we're doing these treatments to keep the roads in a good condition for longer.
Download our leaflet which explains more about what to expect if surface dressing works are taking place in your area.
Proposed locations in Herefordshire included in the 2023 surface dressing programme
C1095 C1101 towards Tillington
B4230 Court Farm towards Moorhampton, Mansel Gamage
B4232 from A449 to U66602 Chase Road, Jubilee Drive
A438 from Nelson Garage to Bridge Sollers junction
B4234 from Kerne Bridge towards Gloucestershire boundary
B4348 from A49 turn to Llanwarne
B4224 from Hampton Bishop to Bunch of Carrots
A4110 from Brampton Bryan turn to Adforton
Haywood Lane, Callow
C1060 from A44 to C1059, Hatfield
C1120 from Morton Bridge to School House, Moreton-on-Lugg
Wacton Lane, Bredenbury
C1205 from Green Lane to Rhydunnog Lane, Michaelchurch Escley
C1270 from A49 to Picts Cross, Sellack
Little Birch Road
C1129 from A465 to Old School House, Withington
C1293 from Whitehill Road to Park Farm, Checkley
Weston Beggard Lane
C1009 from A4110 to Ongar Street, Wigmore
Fawley Chapel Road, How Caple
Snodhill to Old Tay Road to Long Lane, Peterchurch
Letchmoor Lane, Stapleton
C1122 from A49 to Quarry, Wellington
Coney Road, Much Dewchurch (Kivernoll to Kilpeck)
Raycomb Lane, Wellington Heath
C1105 from A4110 to Knoakes Lane, Hyde Ash
Further help and assistance
If you need further information, other help or advice please contact Balfour Beatty's Customer Service Team on 01432 261800.
What surface dressing is and how we complete it
Step 1 - A film of hot bitumen is sprayed onto the road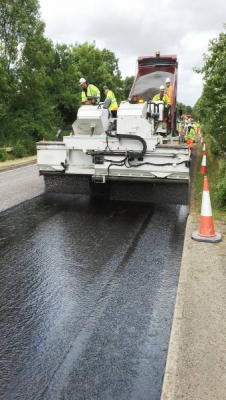 Step 2 - A spreader lays hard stone chippings onto the bitumen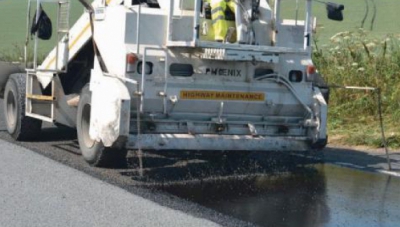 Step 3 - Chippings are rolled and pressed to form an interlocking surface
Chippings are swept away within 48 hours and again within seven days. Road markings are replaced.