Supporting documents and photo guidance
If you cannot apply online, you can visit Blueschool House, Hereford where we will take a photo of you for your application and complete the form on your behalf.
We provide an appointment only bus pass assistance service at Blueschool House:
Every Wednesday: 10am to 12 noon
Appointments can be booked by calling 01432 260005. During the call you will be asked for the personal details we will require to complete your application. This will help us to check your evidence more quickly when you visit Blueschool House for your appointment.
Please note:
You must not attend an appointment if you have Covid-19 symptoms
You must attend the appointment alone unless you have a carer
Please arrive 2 minutes before your appointment starts and report to reception
Please sanitise your hands using the sanitiser provided when entering the building
Documents you will need to have with you if you apply in person
You will need to provide the following documents if you apply in person:
Proof of identity and proof of age
One of the following documents is acceptable as proof of identity and proof of age:
Birth certificate (plus marriage certificate if the applicant's name has changed)
Current driving licence
Current passport - the identification page. If your passport is not an EU passport, a copy of the visa page is also required
NHS medical card
Statement of entitlement to a pension
Proof of residency
One of the following documents is acceptable as evidence of residency:
Bank statement*
Council Tax bill or statement
Driving licence
Pension letter
Recent utilities bill* (not credit card or mobile phone)
*No more than three months old
Proof of disability (for disabled person's pass)
To get a disabled person's bus pass you will need to provide evidence that you qualify for any one of the eligibility categories of disability issued by the Department for Transport.
Eligibility for a companion pass (to accompany a disabled person's pass)
To get a companion pass you will need to provide evidence of eligibility for a companion pass.
---
Photo guidance for bus passes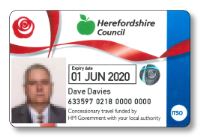 When you apply for a bus pass you will need a suitable passport-style photograph which will appear on your pass. We cannot accept applications without a suitable photograph.
If the photograph is not suitable, we will contact you to request another photograph. We will not refund the cost of obtaining a suitable photograph.
Guidance
Official guidelines state a passport-style photo is acceptable: this refers to the size (45 x 35mm) and look of the photo.
Photographs which would not be acceptable for the strict passport rules are likely to be acceptable for your pass, for example, a photograph of you smiling is fine for your pass. A doctored holiday snap, however, would not be acceptable.
The photograph should be less than six months old, and should be in colour. Black and white photos will not be accepted and will result in your application being put on hold.
---
Size and position of image
Look directly ahead, straight at the camera.




---
Image background
Avoid patterns and other images encroaching into the background. A plain, pale background is more successful.




---
Photograph quality
Avoid over and under exposed photos. Watch out for shadows created behind the subject.




---
Applying online
If you apply for a bus pass through the online form you can use your webcam or upload a suitable photograph. You will have the opportunity to edit the photograph using the online system.