Road surface dressing programme May - June 2019
Working in partnership with our contractor Balfour Beatty Living Places, we are surfacing dressing 126 stretches of road (a total of 65 miles/106km) across the county. The work will take place over the six weeks from 21 May to end of June 2019.
Surface dressing is a coating of bitumen and stone that seals the road surface, improves its texture and extends its life. Any defects, such as pot holes, are fixed first. It's a three-step process that is quicker than other road maintenance techniques, causing less disruption for residents and road users. Read more about the surface dressing process below.
Check if your road surface will be treated
View a map of the areas being visited for road surface dressing in May and June 2019. Work will be carried out between 7am and 7pm.
If your road is affected you will receive a leaflet through the door, up to three days before work commences. You can also download and view a copy of the surface dressing leaflet.
Information signs will also be placed in the area of works. Please do not leave your vehicle on the road or verge when work is due to begin as this will cause delays.
What you need to do if your road is being surface dressed
Before work
Please ensure any vehicle belonging to you or your visitors are removed from the road by 7am on the day of work
On-street parking will not be possible during works, other than for very short durations
Vehicle access to your home may be restricted while the equipment is working near your property
During work
Do not drive or walk over newly laid material until the operation has been completed. This can mark vehicles and driveways.
Wet bitumen will stick to your shoes and could be carried on to carpets and floors in your home or car.
Please keep your pets indoors.
Please drive slowly and with care while travelling through the site and keep to temporary speed limits, to protect both workers and your vehicle.
Follow the guidance of operatives.
You will be able to access your home on foot throughout the works. Check your shoes before entering your home or car.
The work may take more than one day to complete. Please be prepared to ensure the road is kept clear of vehicles the following day.
After work
With care, you can drive on the road immediately after surface dressing has been completed.
For a short time, particularly if the weather is warm, there may be small areas of bitumen that are still soft. Please take great care.
Further help and assistance
If you need help and assistance during work please seek assistance from an operative on site.
If you need further information, other help or advice please contact the surface dressing contractor, Kiely Bros, directly by email at info@kielybros.co.uk or by calling 0121 772 3800.
You can also contact Balfour Beatty's Customer Service Team on 01432 261800.
What surface dressing is and how we complete it
Step 1 - A film of hot bitumen is sprayed onto the road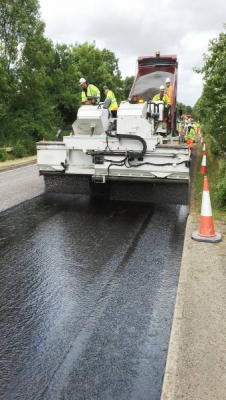 Step 2 - A spreader lays hard stone chippings onto the bitumen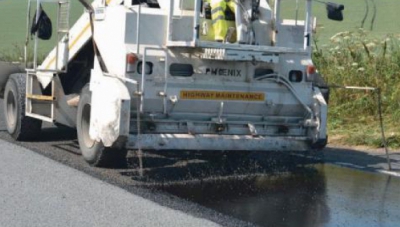 Step 3 - Chippings are rolled and pressed to form an interlocking surface
Chippings are swept away within 48 hours and again within seven days. Road markings are replaced.