Contact Hereford Register Office
To make an appointment to register a birth, death or to give notice of marriage or civil partnership, please telephone 01432 260565 during the following times:
Monday, Tuesday, Wednesday and Thursday: 9am to 4.30pm
Friday: 9am to 4pm
Hereford Register Office is at Hereford Town Hall, 10 St Owen Street, Hereford HR1 2PJ
Directions to Hereford Town Hall
Hereford Ceremony Room - The Oak Room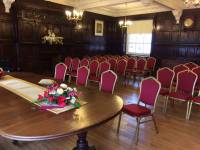 Hereford Town Hall is a prestigious building in the centre of the city. The ground floor ceremony room is oak panelled with high moulded ceilings and chandeliers. The furnishings are in keeping with this impressive room with a large oak table and 40 chairs.