Centenary bunting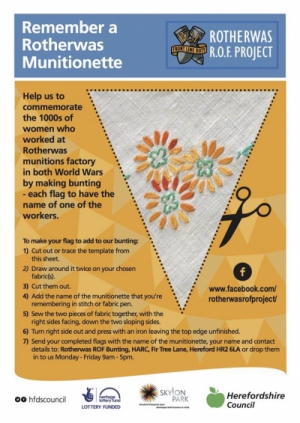 As part of HLF funded project to remember the women who worked at Rotherwas Munitions Factory, we are launching a community project to make bunting - with each flag bearing the name of one of the munitionettes. The bunting will be used as part of the exhibition in November 2016, marking the centenary of the factory producing its first shell, and at other events throughout the project, before being housed at HARC as a memorial to the women workers. So if someone in your family worked at the factory, we would love to include them in this project and if you would like to use the template below and create a flag for them that would be even better! More details are available on the template below.
When sending in the completed flags, please send the name of the person you are commemorating (so that we can add this name to the list of workers that the project is compiling), and your details, including your contact details and if you would like to be kept informed about project events, for example the dates of the exhibition when the bunting will be displayed.
We will continue to accept flags to add to the bunting throughout the whole project (ends December 2017).
We would love families to make flags in memory of their family member - mother, grandmother, aunt or great-aunt etc - who worked at the factory, or community groups might choose to take a group of names and make flags in their memory. Each flag can be decorated as much or as little as you choose, as long as it includes the name or initials of the munitionette and we would prefer flags to be the same size - using our template: