Borrow and download museum resources
Borrow items from the handling collection
We can loan items from our handling collection on a wide range of subjects from natural science such as stuffed animals through to social history such as costumes.
These are available for use by the community, by carers and the cared for, either for group work or on an individual, one to one basis.
Items can be borrowed for up to a month for a one-off charge of £30.
Call or email to book the item you want or to discuss your requirements.
Contact: herefordmuseums@herefordshire.gov.uk Telephone: 01432 383383
---
Explore and Reminiscence Boxes available for hire
We have a range of themed boxes available for use by community groups and individuals. Each box contains many objects that are suitable for reminiscence, study or simply exploring a topic.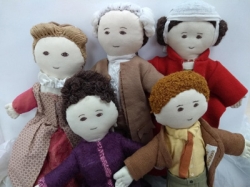 Down the Pub – how times have change
Old Toys – from Lego to puppets, did you own any of these toys?
Tea On the Table – tea time items to jog the memory
Childhood – long forgotten objects
WW2 On the Home Front – mend and make do
Baking – utensils we used to use
WW2 A Long Way from Home – the tough life of a soldier
Mystery Objects – a bit of everything!
Scrubs Up Well – fun exploration of personal hygiene from the past
WW1 Remembrance – the boys who went to war
Dolls – Six gorgeous handmade dolls in historical costume
Hobbies and Pastimes – life before the internet
Slavery – take your time over this one
Fossils – plants and creatures older than the museum
A Right Royal Box – a celebration C20th royalty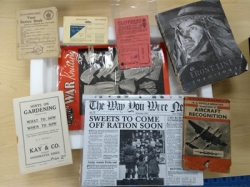 There is a fee of £50 for each loan of up to a maximum of one month.
When you have selected a box please contact us:
Email: herefordmuseums@herefordshire.gov.uk
Telephone: 01432 383383
Museum Resource and Learning Centre, 58 Friars Street, Hereford. HR4 0AS
All staff are part time and they will respond to your request as soon as possible.
Collection/return must be pre-booked. Please leave up to 20 mins for collection and return as objects need to be checked and counted.
Collection/return is from the Museum Resource and Learning Centre, 58 Friars Street, Hereford. HR4 0AS (not the museum in Broad Street).
---
Download publications
You can download Hereford Rocks, a guide to the museum's George West collection, written by the original curator as "an eccentric's view of Life, the Universe and the Rocks of Herefordshire".
---