Herefordshire Lieutenancy - Home page
Her Majesty Queen Elizabeth II
21 April 1926 to 8 September 2022
Reign 6 February 1952 to 8 September 2022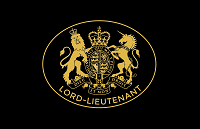 I am deeply saddened to hear the news regarding our Sovereign, Her Majesty Queen Elizabeth II.
The Queen has been a constant, reassuring and positive part of all our lives – for many of us in the United Kingdom, there has been no other Monarch.
Throughout her reign Her Majesty brought wisdom, stability and peace, and was a positive force for good.
The Queen paid many visits to Herefordshire during the course of her reign most recently for her Diamond Jubilee when over 25,000 people came to the city of Hereford to share the celebrations.
As her Lord-Lieutenant it has been a great honour and privilege to have served The Queen and to act as her personal representative in Herefordshire.
I look back in gratitude and look forward to offering support and loyalty to The King.
My thoughts are with all members of The Royal Family at this very sad time.
Edward Harley OBE
Lord-Lieutenant of Herefordshire
Books of Condolence have opened and are available for signing at locations throughout Herefordshire until the day after the funeral, to commemorate and celebrate fond memories of Her Majesty throughout her life.