Free weekend bus travel in Herefordshire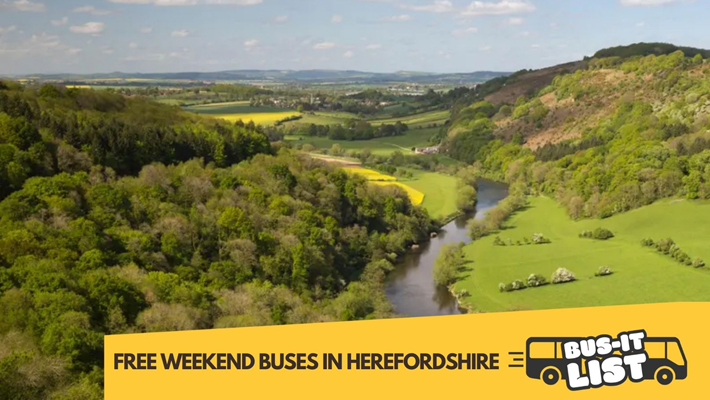 Until Sunday 28 August 2022, all bus travel within Herefordshire is free at weekends.
Thanks to investment as part of the Covid-19 Recovery Fund, anybody and everybody can hop on and off any bus in the county, as many times as they like. No fares. The only condition is that the journey must be entirely within the county.
To help people make the most of the scheme, there are also additional services on Sundays serving several locations including Bromyard, Ledbury, Leominster, Kington and Colwall. A full list of Sunday services can be found below.
Bus travel will remain free to residents of pensionable age, and those with a qualifying disability through the English National Concessionary Travel Scheme (ENCTS).
To help keep everybody safe, it is still recommended that you wear a face covering when travelling by bus - and don't forget to check timetables for your return journey before travelling.
View journey planning and timetable information
New = Service supported by Covid Recovery Funding
Sunday bus services from September 2021
Service
Route
Operator
33
Gloucester - Ross-on-Wye - Hereford via Lea - Weston-under-Penyard - Peterstow - King's Thorn
Stagecoach West
34
New
Monmouth - Ross-on-Wye via Whitchurch - Goodrich - Kerne Bridge -Walford - Tudorville
Nick Maddy Coaches
36
New
Monmouth - Hereford via Welsh Newton - Llancloudy - Wormelow
Stagecoach West
39A
Hay-on-Wye - Hereford via Dorstone - Peterchurch - Madley - Clehonger - Belmont
Yeomans Travel
40
New
Ross-on-Wye Town Service via Greytree
Nick Maddy Coaches
74
Newton Farm - Hereford
Yeomans Travel
401
New
Leominster Town Service via Barons Cross
Lugg Valley
420
New
Bromyard - Hereford via Stoke Lacy - Burley Gate - Withington
DRM

426
New

Bodenham - Hereford via Marden - Sutton St Nicholas - Aylestone Hill
Lugg Valley
454
New
Fownhope - Hereford via Holme Lacy - Rotherwas - Lower Bullingham - Putson
Yeomans Travel
461
New
Kington - Hereford via Lyonshall - Weobley - Mansell Lacy - Credenhill - King's Acre
Sargeants Bros.
476
Ledbury - Hereford via Deer Park - Tarrington - Bartestree - Lugwardine - Tupsley
DRM
492
New
Leominster - Hereford via Hope-under-Dinmore - Wellington - Moreton-on-Lugg - Holmer
Lugg Valley
496
New
Pembridge - Leominster Circular Service via Mortimers Cross - Shobdon - Eardisland - Kingsland
Lugg Valley
600
New
Ledbury Town Service
First
675
New
Great Malvern - Ledbury via Colwall - Wellington Heath
First
Free weekend bus travel to end 28 August 2022
After a year of free weekend travel on buses in the county, the Bus-It scheme will end on Sunday 28 August. However Herefordshire Council will continue to financially support the most popular additional Sunday bus services.
The Bus-It scheme was funded by a Government Covid-19 recovery grant, to encourage residents and visitors to make use of public transport to access leisure and retail facilities in Hereford and the market towns following the pandemic.
Bus-It has been extremely popular, with thousands of people using the free bus service each month including a number of additional Sunday services introduced as part of the scheme.
Some bus operators will continue to offer fare promotions at weekends once the scheme ends, so you should check with the individual operator of the service you use to find out more.
The council will continue to financially support the Sunday services that have been most popular with passengers meaning the following services will continue to operate seven days a week:
34/40 Ross-on-Wye - Monmouth & Ross Town
420 Bromyard - Hereford
476 Ledbury - Hereford
461 Kington - Hereford
426/492 combined service from Leominster - via Bodenham - Hereford
The Sunday services that were not well used and so will end on Sunday 28 August 2022 are:
36 Monmouth – Hereford
454 Fownhope - Hereford
675 Ledbury – Great Malvern
496/401 Pembridge - Leominster Circular and Leominster Town