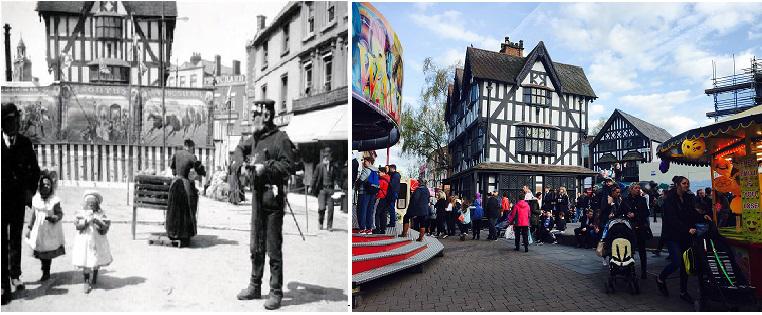 Hereford May Fair around 1895 and in more recent times.
During the fair, the Bishop had rights of control over all trade and those coming into the city which caused many disagreements between the city officials and the bishop over the centuries. The fair was also a time when the rent was due - rents of cinnamon and pepper and cloves.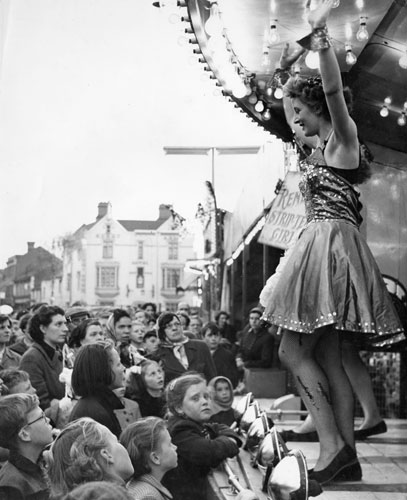 Dancers/paraders on the front of Mrs Price's show with crowd looking on, Commercial Road at Hereford May Fair, 1950s.
In 1838, control of the fair and all its rights passed to Hereford City Council and the duration was reduced to two days. At that time it was one of eight annual fairs. Only the May Fair now survives.
As well as the pleasure fair that it is known as today, the fair also sold livestock, poultry, butter and other produce in the early 19th century and by the late 19th century was also a hiring fair for hiring new servants.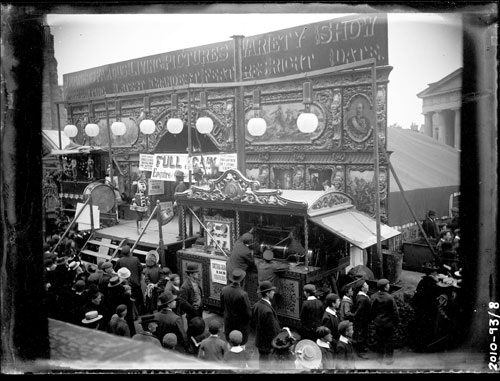 'Dooner's Famous Living Pictures Variety Show' at St Peters Square. An early form of travelling cinema (or cinematograph as it was then called). Early 1900s.
In 1912, the suffragettes took a stall and did a brisk trade in selling their paper Votes for Women, and in 1930, there was a rather different side-show when the public were invited to pay sixpence to look round the old prison (on Commercial Road) before it was demolished - the proceeds went to Hereford General Hospital.