Stop the drop litter pledge
Thank you for helping to Stop the drop and keep Herefordshire clear of litter.
Select the relevant link to make a Stop the drop litter pledge: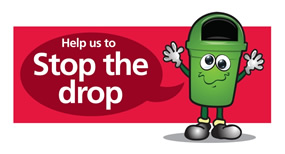 Litter pledges signed so far
Thank you to all the businesses and organisations below who have signed up to make a difference by helping to stop the drop and keep Herefordshire clear of litter:
Businesses and organisations
(my) Dentist
2 Wicked Phone Accessories and repair
Able Locksmiths
Affinity Trust
Age Concern, Ross-on-Wye
Alcocks Chartered Surveyors
Aldi Food Stores
Amanda's Treasures
Amir's Hairdresser
Andrew Morris Estate Agents
Andy Pack Car Care Centre Ltd
A-Plan Insurance
Artisan
ASDA, Hereford
Ask Italian
AT Broad Street
Avara Foods
B&M Retail, Hereford
Bailey's DIY
Balloon Display Company
Balthasar Ltd
Bargain Booze, Hereford
Bartonsham Stores
Bawan Barber Shop
BBR Optometry
Bearings Belts and Sprockets Ltd
Bill Child Formal Wear
Blackfriars Tattoo
Blandfords
Blank Canvas Antiques
Boots
Bowens B&B
Bowens Shoe Repairs
Brightwells Estate Agents
British Heart Foundation, Hereford
British Red Cross, Hereford
Broughton Florist
Broughton Pets
C.N. Trophies
Cafe Bodega
Café Miro
Calandras Menswear
Camperdown Lane
Cancer Research UK Shop, Hereford
Cancer Research UK Shop, Ross-on-Wye
Candy Castle
Candy Hairdressers
Caplor Energy
Card Market, Hereford
Carpet Right, Hereford
Cathedral Funeral Services
CeX, Hereford
Chandos Pharmacy
Choices Foundation C.I.C.
Clintons, Hereford
Clubsport
Clubsport, Kington
Clubsport, Ledbury
Clubsport, Leominster
Clubsport, Ross-on-Wye
CNSport
Coco T Hair Extensions
Coco's Vintage Living
Coffee #1
Collins Design and Build
Commercial Road News
Contrast
Cookies Café
Coombes Cycles
Co-op Food, Whitecross Road
Co-op, Holmer Road
Court Farm & Leisure
Courthouse Medispa
Currys PC World, Hereford
CV Osborne Jewellers
D.J. Benjamin & Sons
Dogs Trust Shop, Hereford
Dolphin Fish Bar
Domestic Appliances
Doughtys Fabrics and Haberdashery
Dragon House
Dreams, Hereford
Dudley Taylor Pharmacies
Dulux Decorating Centre, Hereford
East Garage
E-Cigarette Direct
Edison's Coffee Shop
Efficient Energy Centre
Elle Martin Hair Salon
Eurogarages, Ross Spur
Evans Farm Supplies
Exhaust Tyres and Batteries
Express Gas
Fancy Pants
Fatface
Fella's Barber Shop
Field Fayre
Fishers
FIT Hereford
Flying Tiger
Fone Shop
Forest Surplus
Frankie & Benny's
Fruit and Veg stall in Buttermarket
Ganesha, Hereford
Get Connected
Golden Galleon
Golden Valley Accountancy
Gorgeous Grooming
Grapetree
Greggs, Hereford
Grind n Shine
Gwalia Store
H & GCSA
H Samuel, Hereford
H Weston & Sons
H&M
Halo Leisure Centre, Hereford
Hat Trick and Foot Note
Haygrove Ltd
Hearwell
Heggies of Hereford
Heineken
Henryka
Hereford Butchers
Hereford Car Body
Hereford Carpets
Hereford Charcoal Grill
Hereford Deli
Hereford Electronic Cigarette Co.
Hereford Fish & Chips
Hereford Ford Specialists
Hereford Gold
Hereford Kitchen Ltd
Hereford Model Centre
Hereford Pedicabs and Cargo
Hereford Times
Hereford Tourist Information
Hereford Train Station
HerefordBID - Investing in our city
Herefordshire & Worcestershire Chamber of Commerce
Herefordshire Council
Hereford Hairstyles
Herefordshire Liberal Democrats
Herefordshire Wildlife Trust
Hifi Gear Ltd
Hightown Carpets
Hillmans Florist
HMV Hereford
Hogarths
Holland & Barrett, Hereford
Home and Country Store
Homme Menswear
Hoople Recruitment
Hunters Estate Agents
ISH (Integrated Sexual Health), Hereford
Jelf
John McKellar Designer Jewellery
Just 4 Men Barbers
Kam Windows
Kevin Barry Salon
Kikis Juice Bar
Kind Street Kitchen
King Charles II
La Madeleine
Layers
Leominster Train Station
Little Black Dog Café
Little Chic
Lizzie Bunting Ltd
Lock, Stock and Barrel
Lockwell Electrical
London Camera Exchange, Hereford
London Look Barber Shop
Longhorns Barbers
Lorraine's Hair Salon
Lot 47
Loved Again Furniture
LT Baynham
Lucas Motorcycles
Luch Hair
M. Black and Sons
M. Goddard
Mace Petrol Station, Commercial Road
Magna Electronics
Mails Brothers
Maless Barber Shop
Man of Ross Inn
Manic Ceramics
Market Pantry
Market Sweet Shop
Marks and Spencer, Hereford
Mastercraft Cycles
Maxii Mini Market
Medi UK Ltd
Mill Street Stores
Miller & Carter
Mills Mobility
Mitchell's Leatherwear
Mowchak
Mr. Chips
Munchies
Music Plus
My Lady Fayre
Nandos
National Star College
Neal's Yard Remedies, Hereford
Neil Powell Butchers
New Look, Hereford
Newtown Motors Nissan, Hereford
Next
Nicky Grist Motorsport
No Wrong Door
No. 28 Fabrics and Interiors
Norman Partnership
Number 10
Number four T-shirts
Nutters Café
Oakchurch Farm Shop
Oaklands Leisure
Oakwrights
Off the Wall
Ogleby Butchers
Ohhhs!
Old Market, Hereford
OMAG
Orchard Laser Clinic
Owen Pell
Pandora
Papa John's Hereford
Papaya
Peter Charles Hairdressing
Philip Morris and Son
Phillips and Preece Butchers
Pikadish
Pizza Hut Restaurants, Hereford
Play Planet
Pleasance and Harper
Poppy's Bakery
Prezzo
Printer + Tailor
Priory Coffee House
Pritchards
Raglan House Cafe and Guest House
Rainforest Exotics
RB Structures
Redline Tele.com Ltd
Relics
Rethink
River Island
RJ Francis and Co
Robin Elt Shoes
Rooster Glass
Rose Tinted Rags
Ross Old Book Shop
Ross Wines Gallery 54
Rub-A-Dub Dub
RW Vehicle Repairs and Services
S&A Produce (UK) Ltd
Safehands Recruitment
Saffrons Garage Ltd
Sainsbury's, Hereford
Sam's Toys
Seasalt Cornwall
Sensations Hair & Beauty Studio
Sensory & Rye
Sequani
Sew With Style
Shaw Charity Trust
Snap Fitness, Hereford
South Wye Development Trust
Space/Inside Shop
SSAFA
St Michael's Home and Living Store, Holmer Road
St Michaels Hospice Shop
St Owen Convenience Store
Starbucks, Ross-on-Wye
STD Pharmaceutical Products Ltd
Steamer Trading Cookshop, Hereford
Stitched Up
Stook Hill and Walshe
Swan Brewery
Swarovski
Swinton
Symonds of Hereford
T.S. Matthews & Son
Tanners Wines
Tesco Stores, Belmont
Tesco Stores, Hereford
The Architectural Store
The Balloon Shop, Hereford
The Beauty Salon
The Beefy Boys
The Best Little Hair House in Hereford
The Black Lion
The Black Swan Hotel
The Bowling Green
The Bridal Suite
The Cider Museum
The Courtyard
The Electric Shop
The Entertainer, Hereford
The Fairtrade Shop
The Family Furnishers Ltd
The Golden Fleece
The Grapes
The Helping Hand Company
The Herdsman
The Hereford Music Shop
The Hibiscus Room
The Hop Pocket
The Hope and Anchor
The King's Head Hotel
The Kupcake Kitchen
The Left Bank and De Koffie Pot
The Litchfield Vaults
The Little Bridge Kitchen & Bar
The Magpie
The Market Brow Bar
The Merton Hotel, Hereford
The Patchwork Shop
The Principality Building Society
The Queens Arms
The Repair Station
The Royal Hotel
The Salon by Sarah G
The Spread Eagle
The Temple Bar Inn
The Vintage Emporium
Three, Hereford
Tiffany's Cafe
Tile Giant, Hereford
Timothy Hawkins Gallery & Fine Furniture
TK Maxx
TPG DisableAids Ltd
Travis Perkins, Hereford
Truffles Delicatessen
Tui, Hereford
Upcycle Station
View
Vintage Virtu
Vision Express
Vision Gelpack
Viva La Beauty
Vodafone
Waitrose, Hereford
Warehouse 701
Waterstones, Hereford
Watkins Thomas, Hereford
Westdown Bathroom Centre
White Hall Bathroom Studio
White House at Brinsop
White Stuff
WHSmith, Hereford
Widemarsh Adventures
Wildwood Restaurant
Wilko
Wilton Court
Woody's Angling Centre
Wyebridge Furniture
Wyvern Flooring
Yates Hereford
Ye Oldde Steppes
Yeomans (D.K.) Travel Ltd
Community groups
1st Bridstow Brownies
Addaction
Bobblestock and Westfield Community Association
Central Tupsley Community Group
Colwall Village
Dorstone's Front Rooms
Ewyas Harold for People and Planet
Goodrich Village Community
Hereford Community Clean Up Group
Hereford in Bloom
Hereford Yazor Brook Restoration Project
Herefordshire and Worcestershire Army Cadets
Hinton Litter Team
Leominster Community Action
Little Hereford Parish Pickers
Madley Litter Pickers
Newton Farmers
Pride in Pembridge
Richard Weaver Seniors
Ross Community Clean Up Crew
St James and Bartonsham Grassroots
St Nicholas Community Association
Village of Linton Trust
Weobley Litter Pickers
Schools
Ashperton Primary Academy
Blackmarston School
Brampton Abbots Primary School
Canon Pyon CE Academy
Colwall CofE Primary School
Earl Mortimer College & Sixth Form
Ewyas Harold Primary School
Garway Primary School
Goodrich CE Primary School
Holmer Primary Academy
Ivington Primary School
Kingstone High School
Lea CE Primary School
Ledbury Primary School
Leominster Primary School
Llangrove CE Academy
Longtown Community Primary School
Luston Primary School
Madley Primary School
Mordiford Primary
Much Birch CE Primary School
Much Marcle Primary
Shobdon Primary School
St Francis Xavier's RC Primary School
St Peter's Primary, Bromyard
Stretton Sugwas Academy
Trinity Primary School
Walford Primary
Wellington Primary School
Weobley Primary School
Withington Primary School
Parish and town councils
Bartestree with Lugwardine Group Parish Counc
Bodenham Parish Council
Brilley Parish Council
Burghill Parish Council
Eardisland Parish Council
Fownhope Parish Council
Humber, Ford and Stoke Prior Group Parish Council
Leominster Town Council
Marstow Parish Council
Pembridge Parish Council
Ross-on-Wye Town Council
Welsh Newton and Llanrothal Parish Council
Whitchurch and Ganarew Parish Council