Stop the drop competition winners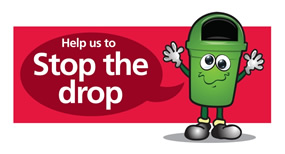 Thank you to everyone who entered our recent competition to design a poster, rap or animation for 'Stop the drop'. We had some fantastic entries.
Animation
First prize for animation
Rose Bellis, KS3 Year 7 Whitecross High School
Second prize for animation
Joe Hoult and Will Marshall, KS3 Year 8 John Kyrle High School
Highly recommended for animation
Kingstone and Thruxton Primary School
Rap
First prize for rap
Macy Walker, Class 5 Age 10, Walford Primary School
Colouring in and Design a poster
View our Flickr album to see the winners of the Colouring in and Design a poster categories. You can also see collages of other fantastic entries and photos from the school assemblies we went to.