Sign up to the Armed Forces Covenant
Join the network of over 90 Herefordshire businesses and organisations who have pledged to support our Armed Forces Community.
The Armed Forces Covenant is a promise from the nation to those who serve or who have served, and their families. Businesses and charitable organisations can sign the Armed Forces Covenant and in doing so pledge to make their own commitment of support.
Support from businesses and organisations can take different shapes and will often depend on the size and nature of each organisation. It can be supporting your employees who are members of the Armed Forces, such as reservists or veterans, or a commitment to employing spouses or offering discounts. Overall, you are promoting that you are an Armed Forces friendly organisation. There is also an opportunity for organisations to add their own commitments based on local circumstances.
The Covenant is usually signed by someone in authority; this could be the CEO or HR Director. It can also be counter-signed by a member of the Armed Forces at a public event.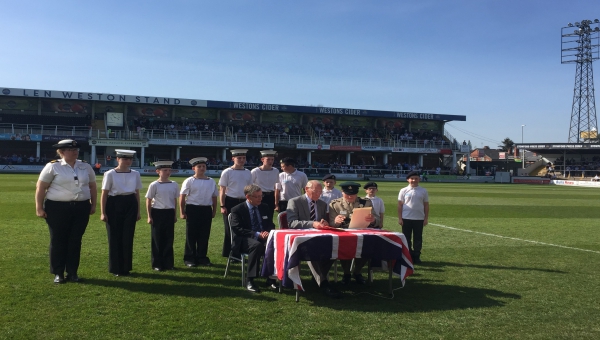 Hereford Football Club pledges commitment to support the county's Armed Forces
Signing the Covenant is straightforward with no costs involved. It also comes with a range of benefits to businesses and organisations including:
Part of a national and local network of organisations with shared social and corporate commitment.
Attract new talent to your organisation who bring military and transferable skills by posting your vacancies on specialist employment portals
Develops new audiences/customers to your business
The option to offer discounts by being part of the Defence Discount Service - the only official discount service for the Armed Forces
New networking opportunities with the MOD's Regional Employer Engagement Team and Defence Relationship Management networks
For non-profit or charities, it can enrich funding applications
Opportunity to get involved with Armed Forces Day and related events
Qualifies your organisation to go above and beyond to apply for the MOD's Employer Recognition Scheme
What to do next
Apply to sign the Armed Forces Covenant and find out how easy it is to pledge your support. Or contact your local Armed Forces Covenant Partnership for more information at hafc@herefordshire.gov.uk