May fairs
2021 May fair dates
We regret to inform you the rescheduled 2021 Mayfairs are cancelled.
Further information about the cancellation
Hereford May Fair
Heart-stopping rides, side-shows, food stalls and ancient ceremonies are all part of the street extravaganza which is Hereford's May Fair. The fair has been taking place for over 900 years.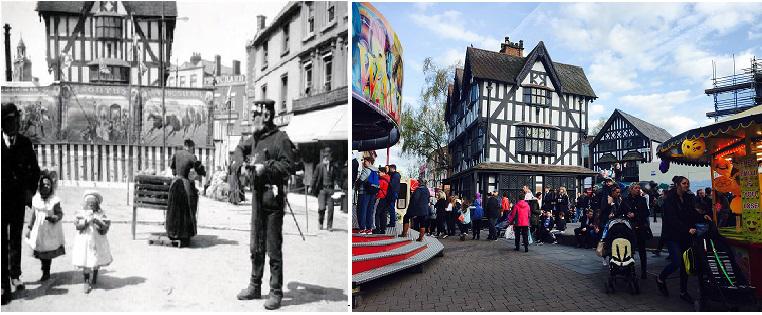 Hereford May Fair c1895 Hereford May Fair 2016
A ceremonial proclamation of the historic St Ethelberts Fair (May Fair) officially opens the fair, offering 12-and-a-half bushels of wheat by the Mayor to the Lord Bishop as payment for allowing the fair to proceed.
The Hereford May Fair takes place on the first Tuesday to Thursday following the first Monday in May.
Opening times:
Tuesday 3.45pm to 11pm
Wednesday 12 noon to 11pm
Thursday 12 noon to 11pm
These are the times between which attractions are allowed to operate. Not all rides will necessarily be open at all times.
Leominster May Fair
Leominster May Fair is a smaller traditional fair held in selected town centre streets each April or May.
The Leominster May Fair takes place on the Thursday to the Saturday before the first Monday in May.
Road closures for Hereford May Fair
To ensure the smooth running of the festival, some of the city streets will be closed during the period of the fair.
The usual roads closed to traffic are:
Commercial Street
High Town
St. Peters Street
St. Owen Street
Broad Street (below junction of West Street and East Street)
King Street and Bridge Street
Some parking, loading and unloading areas will also be closed in Union Street and in the streets mentioned above.
In addition, Widemarsh Street (from its junction with Blueschool/Newmarket Street) and High Street will be closed to traffic from 4:30 pm to 11pm. This will make High Street a safer pedestrian area for fair goers.
All of these streets will be accessible to emergency vehicles.
Advance warning signs will be on all routes leading towards the city centre advising of the closures.
Diversion routes will not be signposted as, with so many possible permutations, such signing would be too confusing for motorists, especially visitors to the city.
All of the other city centre roads will operate as near normal as possible.
Meanwhile, the southern end of Berrington Street will be two-way between St Nicholas Street and Little Berrington Street and motorists are asked to take extra care if using this route. All of Gwynne Street will be two-way.
There may also be additional congestion for traffic using St Martins Street for access onto the A49 during the period of the fair.
Herefordshire Council urges drivers to be patient and considerate on the roads during the period of the fair.
Map of road closures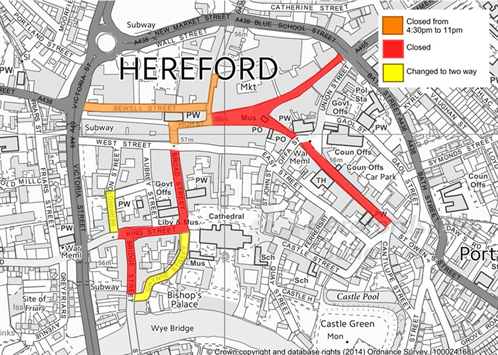 For enquiries please contact markets@herefordshire.gov.uk