Reduce your waste
In Herefordshire around 62% of items thrown into the general rubbish bin could have been reused, recycled or composted. View our waste statistics and average bin make up.
Reducing this waste, at home or at work, can go a long way to helping reduce our impact on the environment.
There are lots of ways to make a real difference from thinking differently about what you buy, to using reusable items and home composting. Some simple swaps are likely to help you save money too.
Check how you're doing
Complete our simple waste audit to see if you are recycling all you can - and see where you can make changes to reduce the waste you produce at home.
Visit Herefordshire Zero Carbon and Nature Rich to see the county-wide Waste action plan - and for examples of how others are reducing waste around the county.
Reduce, reuse, recycle
The waste hierarchy encourages a focus on reduce and reuse. Recycling as much as possible is fantastic but we need to start focusing on preventing the waste in the first place. Putting items in our recycling and general rubbish bins should be seen as the last resort.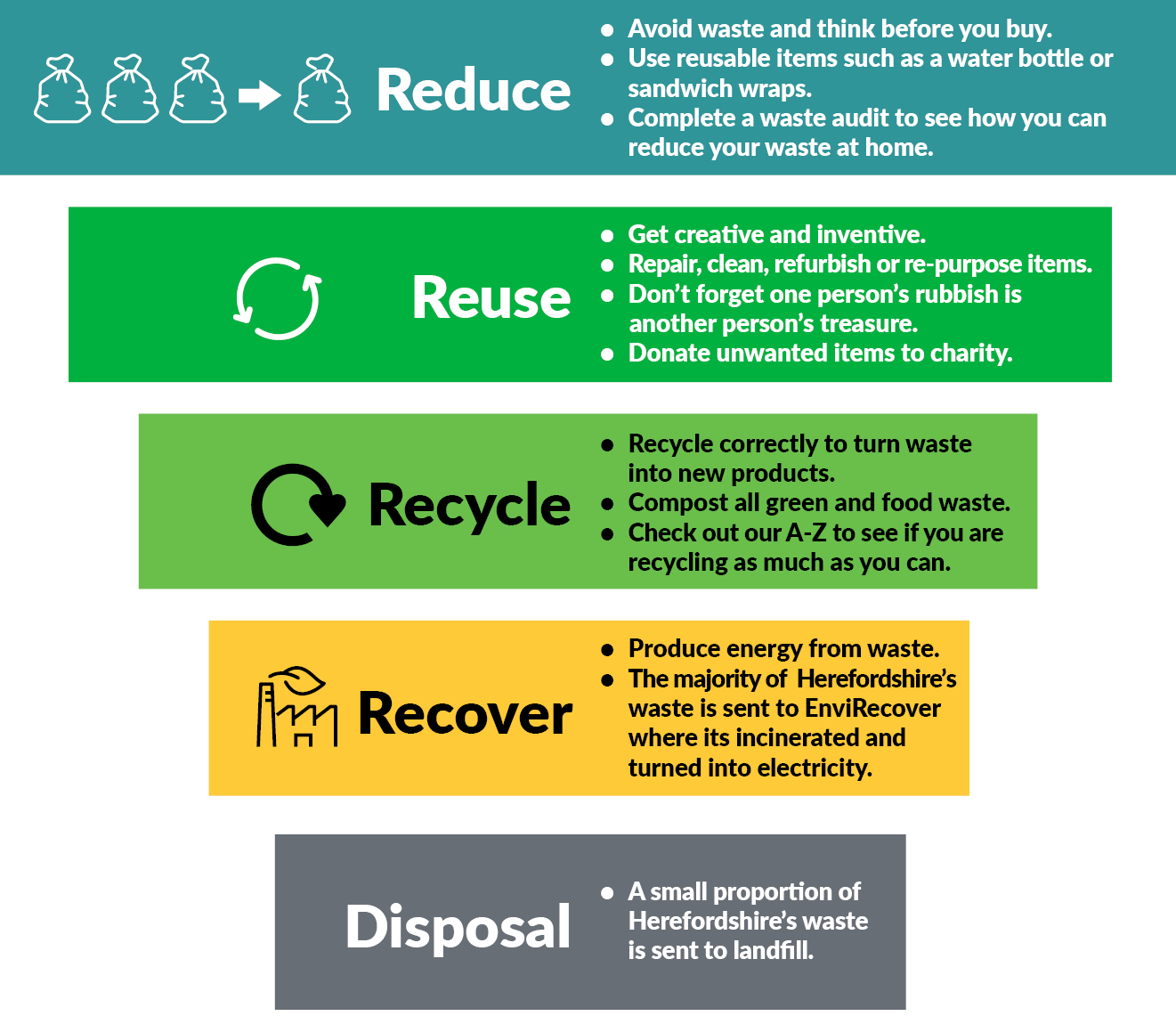 Reduce
We can make the biggest impact on our waste reduction, if we don't create it in the first place.
Quick tips to reduce household waste
If you have something you don't need - could it be used by someone else? From spare windfall apples, food you can't use before it goes out of date, to clothing, furniture or household items. The next option is Reuse.
Reuse
Many things we throw away haven't reached the end of their useful life. Think before you throw it away, could someone else make use of it or could the item be repaired if it's broken?
Quick reuse suggestions
If items can't be reused or repaired you can use our recycling A-Z to see if and where it can be recycled or if it's accepted in your green recycling or black waste bin or at one of our household recycling centres.
Recycle
Recycling is quite far down the waste hierarchy because producing new products from waste takes a lot of energy. But it still has far less impact on the environment than if the item goes to landfill or is burnt in our energy from waste facility. And if you can't reduce, reuse or repair - it's the next best thing.
Items can only be recycled so many times. A plastic tub is turned into a new product only once or twice before the quality of the product is compromised.
Check our recycling A-Z to see if and where an item can be recycled.
Quick recycling facts
and tips
Recover
Most of our county's waste which can't be reused or recycled is used as fuel to generate energy.
This process takes place at an energy from waste (EfW) plant. Herefordshire's waste for recovery is sent to EnviRecover, where it is incinerated and creates electricity (energy). View the recover process.
Recovery is right near the bottom of the hierarchy because, once the materials have been burned, they're gone and can't be used again.
Disposal
Any waste that is collected from households or household recycling centres that cannot be recycled or reused is sent to landfill.
Severn Waste Services manage and monitor our landfill site at Hill & Moor, in Pershore, Worcestershire to make sure it's safe and meeting all of the required legislation. Any methane which is given off as a result of the waste decomposing is collected and turned into electricity.
Landfill sites are the earliest form of waste management, but we now know that these sites aren't good for our planet. This is why we are encouraging people to reduce, reuse and recycle as much as possible.