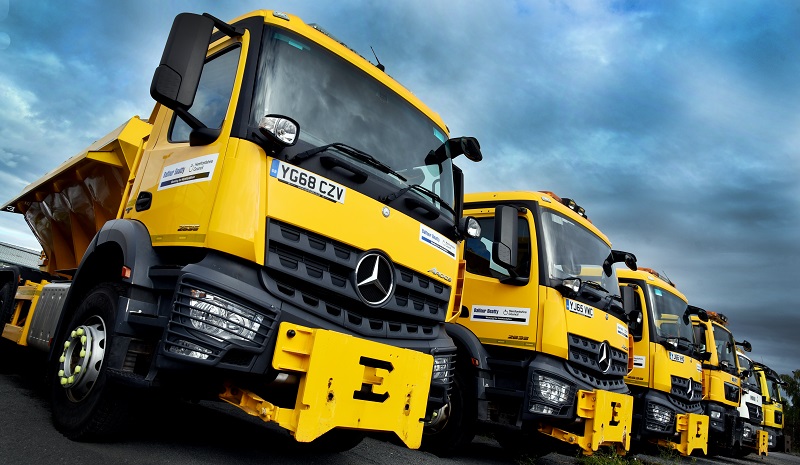 For the latest gritting news follow us on X (Twitter)
Keep up to date with all the latest news of gritting Herefordshire's roads
Follow
Winter gritting routes
Our winter maintenance team helps keep our roads safe and moving. Priority routes are pre-treated when local inspections and weather forecasts indicate a need. We have crews on call 24 hours a day who can react quickly to changing weather conditions. Generally, all planned early morning treatments are completed before 7.30am. During periods of prolonged freezing or snow we will focus our gritting or snow clearing activity on priority routes.
We will treat Herefordshire Council-run public car parks in Hereford and the market towns when surface temperatures are expected to remain below freezing for 24 hours.
From November through to March we provide winter maintenance services on nearly 600 miles of the county's roads.
This service includes:
Pre-salting to help prevent ice forming
Post-salting to melt ice and snow already formed
Snow ploughing to remove snow
Installing and refilling of grit bins
Our Gritting routes map shows the priority and secondary routes for gritting.
For the latest updates on road gritting in Herefordshire follow @HfdsStreets and for road gritting in the West Midlands follow @wmgrit
To report dangerously icy roads which require urgent gritting, please call 01432 261800.
When it's early dark and cold and most of Herefordshire is fast asleep our gritter drivers are heading out to treat roads across the county. Watch to learn how our Winter team works with forecasting and prediction for gritting the counties roads.