Play Your Part
Government guidelines around Covid-19 are changing, but cases of infection remain high in Herefordshire .
So we advise you to continue to take care of yourself and others by following this advice:
Wash your hands regularly with soap and water

Wear face coverings where required and in crowded areas, and give people plenty of space

Take a rapid lateral flow test regularly

Get your booster jab as soon as you are eligible

Take up the offer of the flu vaccinations

Make sure there's good ventilation in indoor spaces
See all of the latest coronavirus information on the government website
Testing
Around one in three people with Covid-19 do not have any symptoms.
Testing if you do not have symptoms
Even if you have no symptoms, take a rapid lateral flow test regularly, you are at higher risk of catching or passing on Covid-19 in crowded and enclosed spaces, where there are more people who might be infectious and where there is limited fresh air, or before visiting people who are at higher risk of severe illness if they get Covid-19.
After reporting a positive lateral flow test result, you will be contacted by NHS Test and Trace so that your contacts can be traced and you must continue to self-isolate.
In the following circumstances you will also need to book a confirmatory PCR test:
If you are eligible for the £500 Test and Trace Support Payment (TTSP) to enable you to access financial support
If you are participating in research or surveillance programmes you may still be asked to book a follow-up PCR test, according to the research or surveillance protocol
There are pop up testing sites across the county where you can pick up a kit or get tested there and then.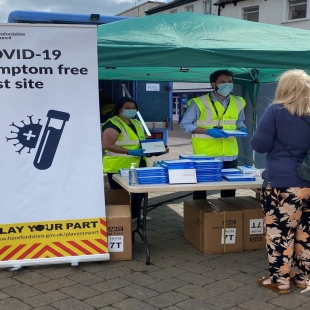 Testing if you have symptoms
If you develop Covid-19 symptoms, self-isolate immediately and get a PCR test and wait for the results, even if your symptoms are mild. This is because many people experience mild symptoms from Covid-19, but may still pass on the virus to others.
The most important symptoms of Covid-19 are the recent onset of any of the following:
A new continuous cough
A high temperature
A loss of, or change in, your normal sense of taste or smell
Self-isolation rules if you test positive
You can stop self-isolating at the start of day 6 if you get two negative rapid lateral flow test results on days 5 and 6 and do not have a temperature. Tests must be at least 24 hours apart. If either test is positive, wait 24 hours before testing again. You can read the full details of the current self-isolation rules on the government website.
Covid-19 vaccination
You can get a booster dose if you had a second dose of the Covid-19 vaccine at least 3 months ago and:
You are aged 18 or over
You are aged 16 or over with a health condition that puts you at high risk of getting seriously ill from Covid-19
You are a frontline health or social care worker
You live or work in a care home
You are aged 16 or over and are a main carer for someone at high risk from Covid-19
You are aged 16 or over and live with someone who has a weakened immune system (such as someone who has HIV, has had a transplant or is having certain treatments for cancer, lupus or rheumatoid arthritis)
People who are pregnant and in 1 of the eligible groups can also get a booster dose.
Need transport?
Taxi
There are FREE return taxis available for people who may be struggling to get to any vaccination centre in Hereford from the following wards:
Widemarsh
Central
Hinton and Hunderton
Newton Farm
Greyfriars.
Blue Line Taxis 01432 343435 (quoting code V21WVT)
or
Hi-Town Taxis 01432 354321 (quoting code C19WVT).
Not sure which ward you are in? Use our online postcode checker.
Bus
At the weekend you could catch a free bus to get your vaccination.
Find out more on the bus pages.
Winter vaccinations
Look out for your flu vaccine invite. There is more information on the NHS winter vaccinations page.
Money worries

Find out what financial assistance may be available for you.
We also have a whole Money on Your mind section if you're finding it difficult to cope with money or debt problems, perhaps you've lost your job or your hours have been reduced, it can leave you feeling stressed and anxious. It's important to remember you're not alone.