The funding will help modernise the facilities to encourage more participation at the swimming pool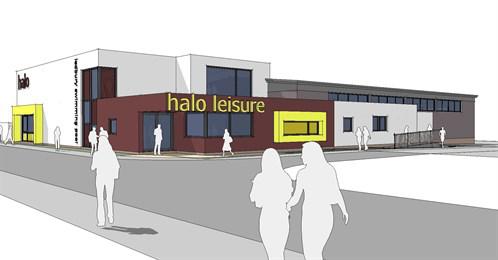 Herefordshire Council is pleased to receive the news that Sport England have awarded £500,000 of National Lottery funding to help Ledbury Swimming Pool transform its facilities.
The money will help modernise changing facilities, which despite serving the community well, are in need of an update. The new village style changing rooms will offer more flexibility for families and school groups, as well as being more accommodating for disability swimmers and centre users. The centre, which sees over 100,000 customers coming through its doors every year, is confident that the new facilities will encourage more people to get more active more often.
Alex Haines, Halo Partnership Manager said -
"This Sport England funding means we are currently investing in the region of £2.6m into the facility"

"As we speak the Halo team are now upgrading and extending the gym and exercise studio, giving the reception and changing facilities a makeover and building a new sauna and steam room"

"While work is taking place local people can still work out at Halo's temporary fitness facility, all the Halo kit will be on site, at the Youth Centre on Bye Street - just behind the pool, which is offering a gym and group exercise classes, plus all the ongoing advice and support you need from Halo's fitness team for a special membership price. The building work which includes an extension started in June 2016 and will be completed by April 2017."
Councillor Harry Bramer added
"This is fantastic news and a great boost for this already exciting project and I am very much looking forward to when the new development opens and to see the benefits this new leisure facility will bring to the community"
Halo Partnership, the social enterprise and registered charity has already spent some £7.5 million transforming their facilities in Bromyard, Hereford, Leominster and Ross but their CEO, Scott Rolfe, says the facilities at Ledbury swimming pool and the thousands of local people who use it have long been a priority for the leisure group.
The centre was one of only 22 projects across England to receive funding from Sport England's £7.5 million Improvement Fund. The latest round of funding placed a special emphasis on helping club's improve swimming facilities. Twelve of the twenty two successful projects have received cash to either improve pool changing rooms' facilities or refurbish tired pools.
Sport England property director, Charles Johnston, said:
"Thankfully as a nation we are becoming more active. Meeting this demand can be challenging, but thanks to National Lottery funding we can help Ledbury Swimming Pool improve their facilities so even more people can enjoy a really first rate experience of being active. Swimming is one of those sports that everyone can enjoy, whether you're going length after length or a just having a quick splash about."
Sport England's Improvement Fund, has invested over £49 million to date in 150 community-based projects across the country. From upgrading artificial grass pitches and swimming pool facilities to helping sports clubs become more environmentally sustainable, this funding has played a crucial role in improving the standards of community sport and incentivising more people to become active.
Keep up to date with what's happening at Ledbury pool on their facebook site www.facebook.com/LedburyLeisure