Herefordshire Council this week launched the first step in our countywide public engagement to help tackle the Climate Emergency - the 2020 Climate Challenge.
Last year, the council declared a Climate Emergency and made a commitment to become carbon neutral by 2030. On Monday 9 March, to mark the first anniversary of the declaration, the council launched the 2020 Climate Challenge at its Plough Lane offices.
We are looking for 20 volunteers from all walks of life across the county: farming, health, social care, education, retail, industry, transport, construction, retirees, young people…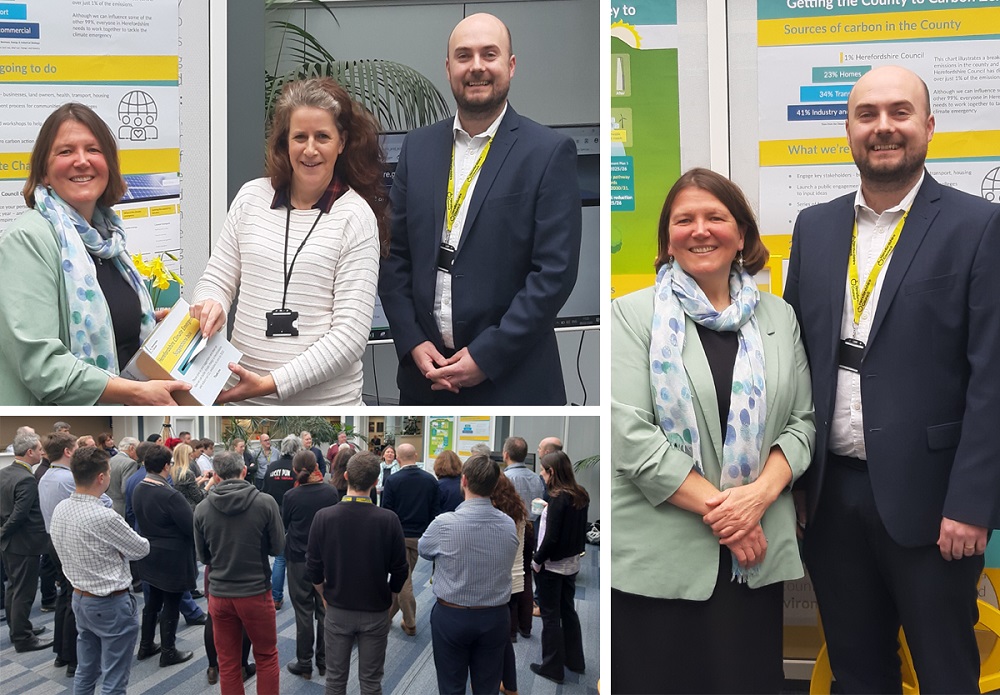 We all need to work together to reach our aspiration of zero carbon, so we're especially interested in volunteers who haven't previously engaged in climate action, but are keen to start – we'll provide all the support you need.
The Climate Challenge Team's work will feed in to the development of the County Net Zero Carbon Action Plan, which will be completed by the end of 2020.
So if you're concerned about the Climate Emergency and would like to get involved with supporting Herefordshire towards carbon net zero, why not join the 2020 Climate Challenge Team?
As a member of the Climate Challenge Team you will have opportunities to:
Get together as a team regularly to discuss, share experiences and contribute ideas
Work in small groups to focus on specific sectors (health, farming, industry etc.) and discuss what can be done in each sector to address the Climate Emergency
Receive sector-specific support
Try to reduce your own carbon footprint by 20% over one year
Cllr Ellie Chowns, Cabinet Member for Environment, Economy and Skills, said: "As an organisation, we've made great strides towards reducing our carbon dioxide emissions, cutting our carbon footprint by 43% over the last 10 years, which is equivalent to over 11,000 tonnes of carbon dioxide. It was a pleasure to outline our progress so far, but we have committed to reaching zero carbon by 2030/31, meaning there is lots of work still to do.

"This is why I am also happy to present our draft Carbon Management Plan, which maps out the next five years of our journey to net zero. We can only reach this ambitious target by working together, so I would encourage everybody to visit our website and share their thoughts.

"But what I am most excited about is the launch of the 2020 Climate Challenge, which is a key step in the journey to zero carbon. We're looking for 20 people from all walks of life, forming a real cross-section of Herefordshire, to get involved. There are two main goals: to work with others in your area to work through ideas about what can be done to reduce emissions in the county; and also to make an effort to reduce your own carbon footprint by 20% over the next 12 months, sharing your own ups and downs to help inspire and guide others.

"It's a fantastic initiative and I am confident it will spur us all on to work together and reach our ambition of zero carbon by 2030!"
For more information on Herefordshire Council's journey to carbon zero, our aspirations for the whole county, and how you can play your part, please visit Herefordshire.gov.uk/climate
Published: Tuesday, 10th March 2020