Do you or someone you know have unwanted medical equipment that can now be returned?
Herefordshire Council and Wye Valley NHS Trust are urging residents to check their own homes and their family member's homes for medical equipment that is no longer needed as part of Herefordshire's 'Hand It Back' campaign.
Millions of pounds worth of equipment is currently on loan in the community. This includes walking frames, wheelchairs, crutches, beds, chairs and other equipment issued by the NHS or the council.
Many unwanted items sit in corners of a room, in cupboards or in the back of garden sheds and outbuildings or they are sold in charity shops and at car boots sales, when they could easily be recycled for another resident to use, where it's safe to do so.
Many items are often only used once and then thrown away with the household refuse or taken to the Household Recycling Centre (HRC). Returning equipment means that thousands of items will be found new homes instead of ending up in landfill, which is good news for the environment.

Returning unwanted equipment is really easy. If you, or a relative or friend, has equipment supplied by Herefordshire Council or the NHS (via NRS Healthcare) that they no longer need, simply choose one of the following options to arrange a free collection:
Call 0300 100 0045
Email enquiries@herefordshire.nrs-uk.net to arrange collection
Alternatively, return the item directly to the NRS Healthcare depot at Unit 3a, Thorn Business Park, Rotherwas, Hereford, HR2 6JT. The depot is open between the hours of 9am and 5pm from Monday to Friday
The free collection service does not apply to walking aids. These items can be returned to any NHS physiotherapy department within the county or taken to NRS Healthcare at Rotherwas. Other items including wheelchairs, beds, and chairs should only be returned to NRS.

Please ensure items are in a clean condition before returning.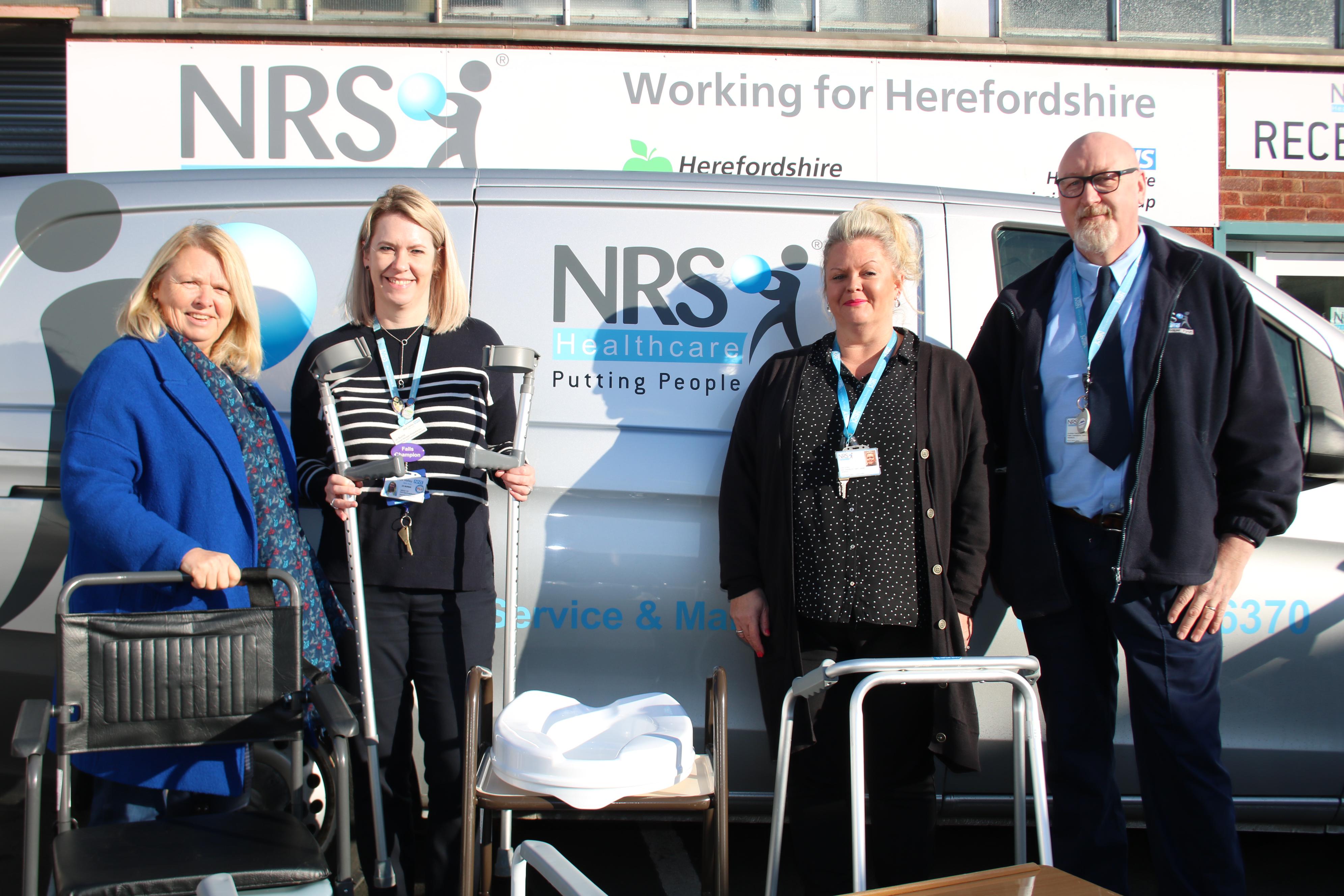 Councillor Pauline Crockett, Herefordshire Council Cabinet Member for Health and Wellbeing, said: "It would be fantastic if we could increase the amount of equipment returned over the coming months and increase the recycling rates of the service for the county.

"Unfortunately some people are not aware that the equipment can be easily returned and re-used to help more people which saves money and means we can help more people."
Jo Burns, Clinical Manager for Physiotherapy at Wye Valley NHS Trust, added: "We would like to thank everyone who has returned unwanted equipment to us so far. Since the launch of the 'Hand It Back' campaign in February 2019 we have saved around £6000 and we would like to see these savings increase. So if your equipment is no longer needed or used, please return it and help us to replenish our stocks for other patients and save the NHS money."
More information can be found at https://www.herefordshire.gov.uk/info/200147/social_care_and_support/302/care_providers_and_housing_options/4