Squirrel Club reading incentive scheme launches for children aged five and under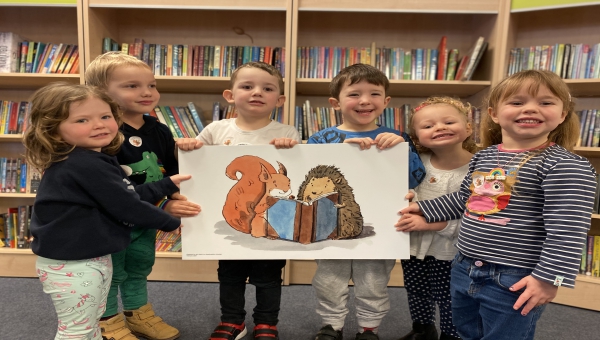 Children from Bargates Nursery holding up the Squirrel Club library card design © Herefordshire Council
Bargates Nursery enjoyed a special story time in Leominster Library's new and improved children's area to mark the launch of Herefordshire Libraries' Squirrel Club.
You're never too young to join the library, and now there's even more reason to visit! Children aged five and under can join Squirrel's reading club and collect beautiful character stickers with every library visit. Designed by local illustrator Iain Welch, the special woodland stickers create a magical picture of Squirrel and his woodland friends.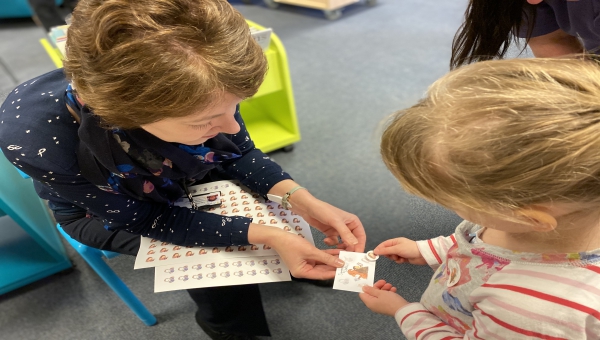 A child from Bargates Nursery chooses the first Squirrel Club sticker for her collector card © Herefordshire Council
Once children have collected four stickers, they can choose their very own story to keep, personalised with a Squirrel Club bookplate featuring the child's name. Children's reading charity BookTrust has donated 2,500 picture books to give to children as a reward.
Councillor Gemma Davies, Cabinet Member for Commissioning, Procurement and Assets said:
"Inspiring children to achieve is a big ambition for the council, and joining the library at a young age is the best way for a child to foster a love of reading, learning and making sense of the world around them."
Councillor Felicity Norman, Cabinet Member for Children and Families said:
"Our libraries are vibrant hubs at the heart of our communities and there's plenty on offer for young children. As a regular visitor to my local library in Leominster, I am delighted to see the number of children enjoying the activities. We host bounce and rhyme sessions and story times and have a fantastic selection of picture books, board books and a sensory book collection available to borrow."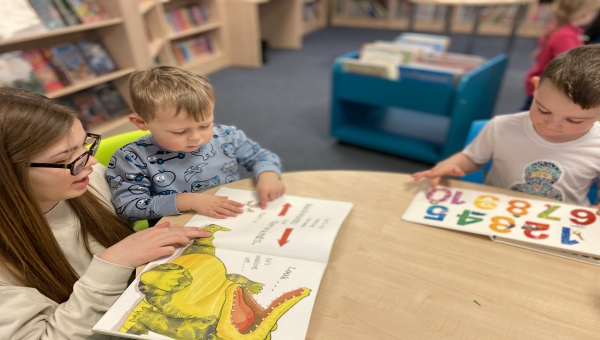 Children from Bargates Nursery reading at Leominster Library © Herefordshire Council
Bring your little squirrels to Early Hurly Burly, our fun, free and creative music, story and drama sessions for children under five. There's no need to book - just come along and join in the fun!
Early Hurly Burly @ Leominster Library (10.30-11.30am)
Every Monday from 16 March – last session 6 April
Early Hurly Burly @ Hereford Library (1.45-2.45pm)
Every Thursday from 5 March – last session 2 April
As part of this year's World Book Day, Herefordshire Libraries is inviting younger readers (and book loving adults!) to vote for their favourite 2019 story book. Voting runs from 5 – 12 March and can be cast through Twitter @HfdsLibraries.
Follow @HfdsLibraries on Facebook and Twitter to find out about all our library events.
Published: Wednesday, 4th March 2020