Inclusive Braille-adapted titles also included in collection
Herefordshire Council's library service has launched an inclusive sensory board book collection for children.
Many children enjoy the interactivity of board books which they can explore with their hands. By feeling different textures and finding surprises under flaps or behind doors, reading becomes a multi-sensory experience.
The council's library service has also worked in partnership with the Royal National College for the Blind (RNC) to develop Braille-adapted books to further enhance the collection.
Sharing a book with a child is a fun, family experience – but one that has been denied to people affected by a visual impairment. Adding Braille-adapted books to the sensory collection means that parents, carers and family members with a visual impairment can now read with their child. A Braille-imprinted acetate is inserted over book pages so books can be enjoyed by the whole family.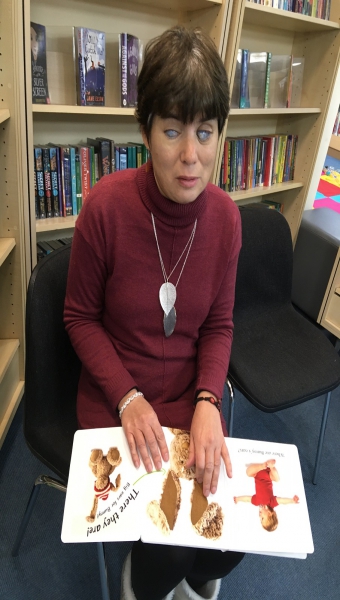 Marika Kovacs demonstrates reading a Braille-adapted book © Herefordshire Council
Marika Kovacs is visually impaired and is the RNC's Braille Transcriber. Carol Brown is Marika's Support Assistant and, working together as a team, they have adapted the board books. Marika says:
"Braille-adapted board books weren't around when I was little so I never experienced the wonder of children's books. I look forward to sharing these books with my great nephew."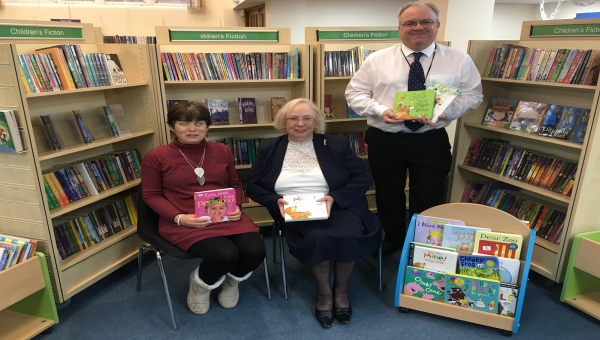 l-r Marika Kovacs, Carol Brown, Jon Chedgzoy show closed sensory books © Herefordshire Council
Jon Chedgzoy is Herefordshire Council's Museum, Libraries and Archives Manager. He says the sensory collection has been introduced following demand from the local community:
"Our new children's sensory book collection came about after requests from Health Visitors and Early Years settings. The books will sit as a special collection in the children's area at Hereford and Leominster Library. Sensory books support inclusive learning and development of children and the books can be shared and enjoyed by everyone. We are so pleased that we can add unique Braille-adapted books to the collection so parents with a visual impairment can share a book with their child. Thank you to Marika and Carol at RNC whose hard work has created these wonderful and inclusive books."
If you can't get to Hereford or Leominster Library, you can reserve books from this special collection online or from your nearest library. As with all our library service children's books, no fines or charges will be incurred on late, lost or damaged books.
Published: Friday, 6th December 2019