Litter dropping put in the spotlight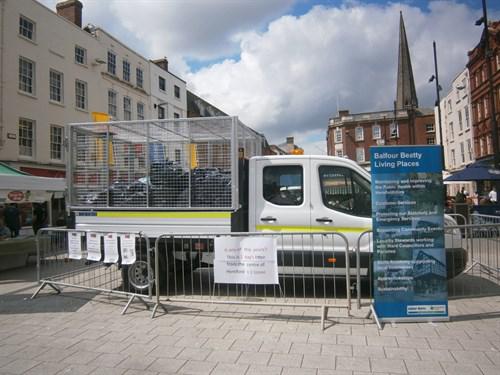 This van contains the amount of rubbish picked up in Hereford city centre in one day - one tonne!
Herefordshire Council's 'Stop the Drop' team was in High Town last Saturday, highlighting the amount of litter dropped in the city centre and collected by the council, in partnership with Balfour Beatty Living Places.
Litter collection and street cleansing costs Herefordshire Council in the region of £1million each year. This £1million could have filled 18,000 potholes, employed 27 social workers or provided 42 residential care packages for older people.
The 'Stop the Drop' litter campaign aims to discourage people from dropping litter and take more responsibility for their own waste and to think about the impact litter has on the environment - from endangering wildlife to attracting vermin such as rats and seagulls to the area.
'Stop the Drop' also encourages people to organise or participate in community litter picks in their area to help improve their surroundings and take pride in their local environment and the beauty of Herefordshire. Litter pick packs are available and we will collect the rubbish collected during the litter pick at no cost to participants.
For further information on the litter pick packs please call 01432 261800 or visit www.herefordshire.gov.uk/stopthedrop.
"I always wondered why somebody doesn't do something about that. Then I realised I was somebody."

Lily Tomlin, actress
Let's work together to keep our beautiful county clean, be that 'somebody' that helps make a difference.