With the nights turning colder, Herefordshire Council's Winter Maintenance teams are now on standby, ready for the winter.
Our highways partners, Balfour Beatty Living Places, maintain and operate a fleet of 15 front-line gritters and four snow blowers to keep the county's priority network operating as efficiently as possible during poor weather.
Salt supplies have been restocked, with 5,200 tonnes of rock salt currently available, and council-owned grit bins have been restocked. Local weather is being monitored by seven weather stations across Herefordshire with sensors giving decision makers vital information about road surface temperatures, which can be lower than air temperatures.
Six highways inspectors are also on 24/7 standby to inspect roads and help determine gritting requirements.
Crews will remain on stand-by until March to monitor the county's priority network of 597 miles (961km) of road.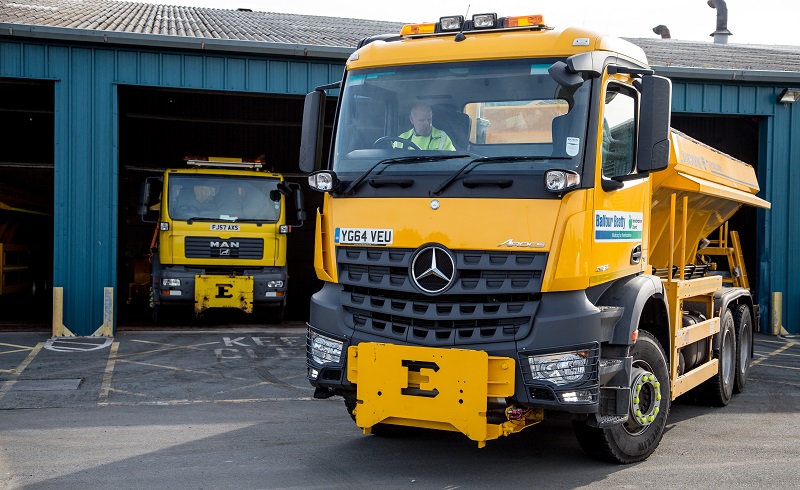 The Priority Network is determined by many factors including:
Traffic volumes and speed of road
Strategic routes required for economic and community continuity
Commuter routes
Routes important to emergency services
Known problem locations, e.g. roads with steep gradients
Public transport routes
During periods of severe weather, treatment may extend to some 420 miles (667km) of secondary routes including school routes, key links to rural communities and regular public transport routes with daily frequencies.
Balfour Beatty Living Places Operations Manager, Paul Shipton, said: "We have a large team of highly trained operatives on stand-by throughout winter months to ensure we do everything possible to keep roads safe and moving.

"Herefordshire has experienced some severe weather events in recent years and, in addition to our own fleet of gritters and snow blowers, we work closely with local snow contractors to ensure they help keep communities connected at such times. We urge people to pay attention to forecasts, gritting alerts and safe driving advice and plan journeys carefully during icy or snowy periods."
The Winter Service Plan and gritting routes can be found on the Herefordshire Council website.
Richard Ball, Interim Director of Economy and Place, said: "We have a robust winter maintenance policy in place once again this year, with nearly 600 miles of priority routes identified to maintain transport connections for as many communities as possible. When freezing conditions are forecast these key routes will get precautionary and reactive gritting.

"Weather conditions can change incredibly quickly and may make a significant difference to your normal travel. Whatever the weather, we encourage people to please take care on the roads and pavements, but during winter this becomes even more important.

"All routes can become treacherous, even once they have been salted, and we advise drivers to avoid fast turns and sharp braking, use low-beam headlights to prevent glare and keep a much greater distance from the car in front than in dry or wet conditions."
Residents can receive live 24/7 gritting updates by following @HfdsStreets on Twitter and know in advance when to extend journey times.
In in the case of extreme weather, road closures are listed on the Herefordshire Council website at www.herefordshire.gov.uk/roads and school closures and transport alerts at www.herefordshire.gov.uk/schoolalerts
Published: Friday, 1st November 2019