Eligible residents are urged to have a free flu jab
Herefordshire residents who are most susceptible to flu are being urged to make an appointment with their local GP practice or pharmacy to book a free flu vaccination as soon as possible.

Vaccination against the flu virus is the single best protection against a potentially very serious illness.

This year, the NHS is offering the free flu vaccine to 25 million people across the country, with more people than ever being included in the vaccination campaign.

Residents are eligible for a free NHS flu vaccination, if they fall under one of the following at-risk groups;

You can obtain free NHS flu vaccination from your GP or local community pharmacy if you are:
Under 64 years with certain medical conditions
Over 65 years
Pregnant
A carer
Living in a long-stay residential care home or other long-stay care facility
A front-line health and social care worker
Children can receive the vaccine from their GP Practice if they are:
Aged 2 to 17 years and have certain medical conditions
Aged 2 or 3 years
All primary school aged children will be invited to receive the nasal flu vaccination by Coventry and Warwickshire Partnership NHS Trust. This is normally given whilst your child is at school. For more information about the programme please visit their website

All those eligible are encouraged to get their free vaccine as early as possible to protect themselves and their families before flu reaches its seasonal peak. To find out more about the flu vaccine and whether you are eligible visit www.nhs.uk/fluvaccine or alternatively speak to your GP, midwife or pharmacist. To find out which community pharmacies are offering the flu vaccine locally, including their opening hours, go to the Herefordshire CCG website.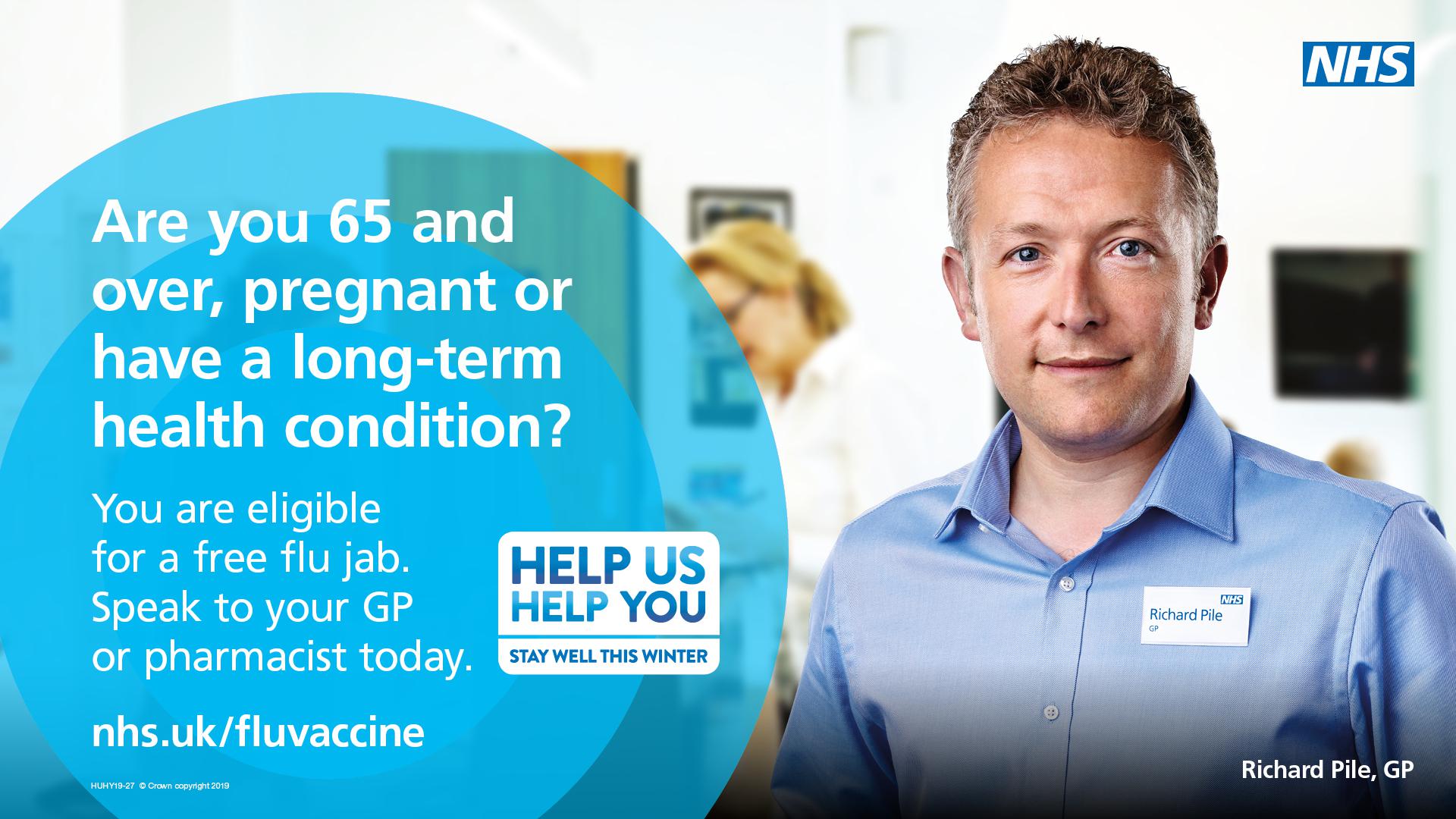 Dr Ian Tait, GP and Clinical Chair for NHS Herefordshire Clinical Commissioning Group, said: "As a GP, I can't stress enough how important it is to protect yourself and others from flu, particularly if you are in one of the at-risk groups or look after someone who is. We are all responsible to help prevent the spread of the flu virus and protect ourselves and others as much as we can this winter."
As well as getting the vaccine, practising good hand hygiene is extremely important. By catching coughs and sneezes in a tissue, throwing it away and washing your hands after can help limit the spread of the virus.
Karen Wright, Director of Public Health for Herefordshire, added: "Flu is potentially a very serious illness. Up to 77 per cent of people with flu have no symptoms, so they could be spreading the virus to family and friends, even though they feel fit and healthy.

"The vaccination is the best protection you can have against the flu. It's quick, easy and safe and because the injected flu vaccine given to adults contains inactivated flu viruses, it's a myth that it can give you the flu.

"We encourage everyone who is eligible to get the flu vaccine to book an appointment with their GP surgery or local pharmacy to have the flu jab as soon as they can."
Flu Facts
Flu kills an average of 8,000 people every year, and it can be particularly serious in older adults, very young children, and people with underlying health conditions.

The flu vaccine remains the best defence against the flu virus and protects those people who are most vulnerable.

This year, the NHS is offering the free flu vaccine to 25 million people across the country, with more people than ever being included in the at-risk groups.

An extra 600,000 children will receive the flu vaccination this year as part of the national flu vaccination campaign.

Certain groups of people are at higher risk from flu, including adults aged 65 and over, those with underlying health conditions, pregnant women, and frontline health and social care workers.

Last winter, 5,505 people were reported hospitalised because of confirmed flu in a network of 24 trusts in England. 3,157 people were admitted to an Intensive Care Unit or High Dependency Unit as a result of confirmed flu across all of the UK during the 2018/19 flu season, of whom 312 died.

In 2018/19, there were an estimated 1,692 deaths associated with flu.
Published: Friday, 25th October 2019