Leominster is to benefit from full fibre broadband thanks to a grant from Herefordshire Council's Fastershire project and part funded by the European Regional Development Fund (ERDF)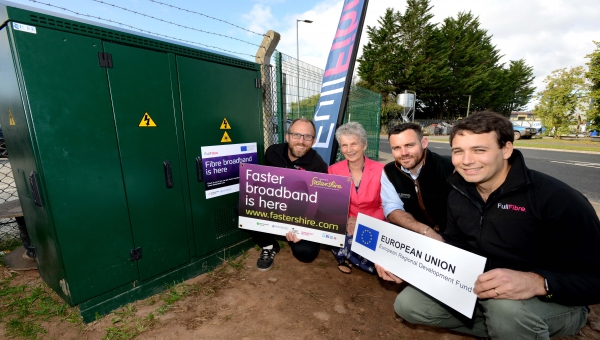 [Centre] Councillor Trish Marsh and George Thomas, Director at G. P. Thomas Construction with Dan Jones and Oliver Helm from Full Fibre Limited © Chas Breton
Wholesale broadband provider, Full Fibre Limited, have built a new Fibre to the Premises (FTTP) network serving businesses on Leominster Enterprise Park, funded by Fastershire's Marches and Gloucestershire Broadband Grant.
Fastershire's grant provides up to up to £25,000 of the capital installation cost for any eligible small to medium sized business that is not going to be reached by the project's main rollout contracts or any commercially funded deployment.
George Thomas, Director at G. P. Thomas Construction, said:
"We're delighted about the introduction of full fibre broadband to the industrial estate.

"We regularly encountered problems with internet speeds when dealing with clients and architects alike - I think a lot of companies will agree that the benefits to having new faster internet will be excellent for business."
The grant has allowed Full Fibre Limited to deliver 10Gbps capable full fibre broadband to Leominster businesses, where previously it was commercially unviable.
Oliver Helm, CEO at Full Fibre said:
"High quality, fast and reliable broadband is vital to the growth of businesses and can both unlock substantial savings and facilitate growth.

"The infrastructure we've built provides a stable, future proofed, solution for local business and our wholesale only approach enables internet service provider (ISPs) to offer competitive, reliable services without tying users to one provider."
Full Fibre Limited have now begun to extend their FTTP network into the rest of Leominster. The additional rollout is due to complete in the first half of next year and will make Leominster one of the first full fibre market towns in the country.
Councillor Trish Marsh, the Cabinet Member for Environment, Economy and Skills at Herefordshire Council said:
"Access to full fibre broadband will be a tremendous boost for homes and businesses in Leominster.

"Faster broadband provides a great platform for businesses to grow and embrace new methods of working and for residents it means access to all the internet has to offer and makes remote working a realistic prospect."
Over 88% of Herefordshire properties can access a 30mbps or greater service, increasing to 97% under phase 2. To find out if your property can access faster broadband, visit www.fastershire.com
Published: Tuesday, 15th October 2019