Recycle Week event shows families how to reduce, reuse or recycle household waste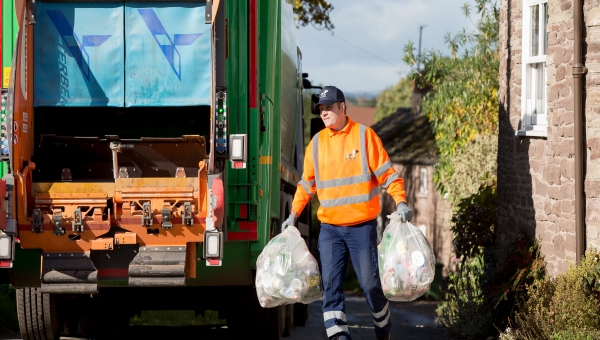 Meet Nigel and his bin lorry as part of Recycle Week 2019 © Sally Corrick Photography
This Saturday (28 September), children across the county can get a taste of what it's like inside the cab of a bin lorry as part of the national Recycle Week 2019 event.
Children can meet Nigel and his bin lorry in Hereford High Town from 10am-4pm - and they will even have the chance to sit in the cab! Parents will have the opportunity to learn how to reduce single-use plastic waste and how to recycle their household waste at home or using an alternative recycling facility.
Now in its 17th year, Recycle Now's Recycle Week (23 – 29 September 2019) is tasking residents to take recycling into their own hands by rinsing, sorting and separating household waste to make recycling the new norm.
Councillor Gemma Davies, Herefordshire Council's Cabinet Member for Commissioning, Procurement and Assets said:
"Thanks to the fantastic efforts of Herefordshire residents, 40% of the county's household waste was recycled last year. We can always do more and Recycle Week is a great opportunity to think about how much waste our households create. Our council has declared a state of climate emergency and this small act of reducing, reusing or recycling our waste can make a big difference to our environment."
On an average day, our crews in Herefordshire collect recycled waste from around 900 properties and walk 12 miles. The recycling then travels to the EnviroSort recycling plant in Worcestershire which receives around 300-350 tonnes of recyclables each day – the same weight as 56 African elephants!
Find out what can be recycled in Herefordshire at www.herefordshire.gov.uk/recycleweek
Published: Monday, 23rd September 2019