Your chance to be a part of England's biggest heritage festival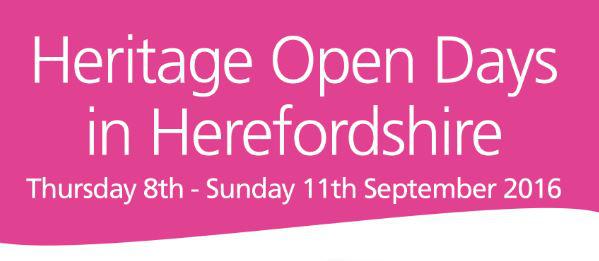 Once again Herefordshire will be opening up its fabulous historic sites for Heritage Open Days, which runs from Thursday September 8 to Sunday 11, it's England's biggest heritage festival that celebrates our fantastic history, architecture and culture.
Among those sites opening up their doors during the festival will be Herefordshire Council's Museum Resource and Learning Centre who will be running Meet the Pests days! - A chance to drop in and see the pests caught in our traps in our stores and to meet our volunteer entomologist.
The Old House Museum will also be opening up its basement containing the impressive room safe from when the building was used as a bank, you will even get chance to meet the banker on Sept 10 and 11.
Herefordshire Archive and Records Centre (HARC) will be running a behind the scenes with the conservation team event on September 8. Archive conservation is a fascinating mixture of science, craft, history and art. As well as an exhibition of what we do, you'll be able to take a tour and see demonstrations of their work.
Heritage Open Days are a once-a-year chance to discover the often hidden or forgotten gems on our doorsteps and enjoy a wide range of tours, events and activities that bring local history and culture to life.
John Bothamley, Chairman of Hereford Civic Society said:
"Seeing inside other people's normally private domains is always fascinating. Often we study heritage by looking at facades - HOD gives us the chance to see the inner layouts and workings - like my in situ cider mill (although it doesn't actually work!)"
Hereford Civic Society and The Woolhope Field Club have teamed up with Herefordshire Council and other local heritage organisations to encourage people to open up their unique historic buildings during the weekend. Enjoy a walking tour, explore ancient and unusual buildings or go behind the scenes with the experts.
David Whitehead, Hon. Secretary of the Woolhope Field Club said:
"Often it is the most unassuming buildings; the ones that we take for granted or pass every day, that have ravishing internal features or a secret history. Now there is a wonderful opportunity to find out".
All the open sites in Herefordshire can be found on the Heritage Open days website.
Entry to all sites is free when they are open for Heritage Open Days, but please remember it is essential to check the events details on the website first to avoid any disappointment.
Loyd Grossman, Patron of Heritage Open Days, said:
"At a time when many of our heritage sites, museums and buildings of cultural interest are under increasing economic pressure it's heart-warming to see the number of Heritage Open Days events continue to grow. Our army of volunteers play an important role in championing our wonderfully diverse local heritage, opening up doors and keeping access free for these very special four days every year. We are keen to encourage people to stand up for the places that are important to them by bringing to life their stories for everyone to enjoy."
For more information on events at Herefordshire Archive and Records Centre visit the Herefordshire Archive and Records Centre page.
For more information on events at Herefordshire Museum resource and learning centre and The Old House museum visit our Events page
Published: Tuesday, 23rd August 2016