A business at the heart of Ledbury's economy will be able to improve efficiency following the award of a European Regional Development Fund (ERDF) grant.
From their base on New Mills Industrial Estate in Ledbury, Galebreaker Group Ltd undertakes research, design and manufacture of fabric based ventilation systems, weather protection and performance enhancing products for the agricultural and industrial sectors.
The company were awarded support of £78,280.16 from the Marches Building Investment Grant scheme (MBIG) to provide better facilities for new and existing customers and staff and improve efficiency, and thus assist with their 3 year expansion plan to double their turnover in Europe and to increase turnover in North America.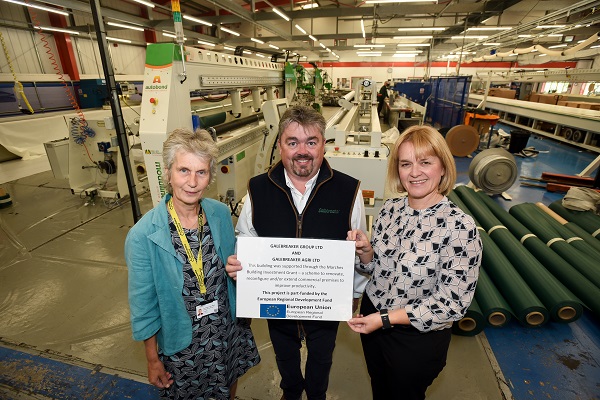 The first improvement project involves reconfiguring the space within the existing building to provide additional office space, a training area and new welfare facilities.
The second project will improve manufacturing efficiency and productivity through improved logistics handling of export goods. The company's growth comes mainly from exports and there is need for a specific area for grouping orders for dedicated lorry shipments. Thanks to the funding, Galebreaker are in the process of adding an extension to the building which will create a dedicated area to allow 4 lorry loads of finished goods to be accumulated and quality controlled prior to shipment.
The growth has enabled the creation of five new jobs.
Jeremy Scudamore, Director of Galebreaker, said: "The Marches Building Investment grant funding has kick-started our growth investment for our expansion in our export markets. Undoubtedly it has accelerated our plans to facilitate a new training academy, better staff facilities and a purpose built goods out building."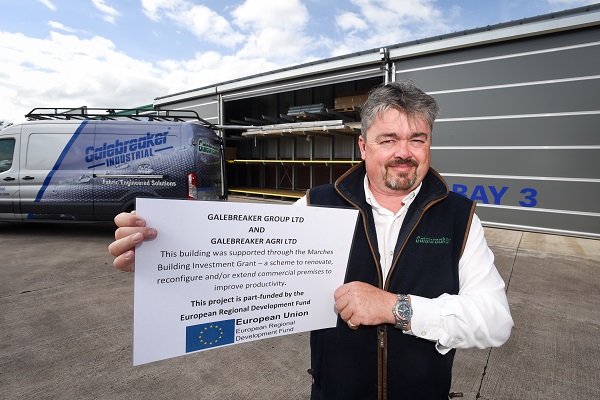 Cllr Trish Marsh, Cabinet Member for Environment, Economy and Skills, added: "Marches Building Investment Grant scheme (MBIG) funding has helped so many local businesses to expand, and we are delighted to have been involved in supporting this expansion. As a council, we are committed to growing our local economy, and by helping local businesses to expand we are able to help our economy remain robust and create new jobs for local people.

"Although the current total of funding is fully committed, we are hopeful that new funding bid will be approved and enable us to continue the scheme for a further three years, and would encourage local businesses to contact us to discuss how ERDF funding can help their business."
If you are interested in applying for funding please contact 01432 260662. Any businesses and community groups can explore the range of funding and grant options available in the county at www.herefordshire.gov.uk/funding
For more information on Galebreaker, please visit www.galebreaker.com
Published: Tuesday, 17th September 2019